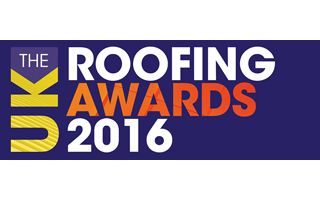 The winners of the UK Roofing Awards 2016 were announced at a ceremony held at the Hilton London Metropole on Friday, May 13, 2016 hosted by the BBC's Steph McGovern.
Guests from across the roofing industry attended the ceremony preceded by a drinks reception held at the Hilton London Metropole.
Hosted by the NFRC, amongst others, the Awards showcase some of the most intricate and challenging roofing projects from across the country.
After receiving almost 300 entries between September 2015 and January this year, a panel of technical experts had the difficult task of whittling the entries down to just 56 projects across 14 categories.
The winners were then chosen by a small panel of construction professionals and announced at the ceremony on Friday:
– Fully Supported Metal Roofing – cu.tech.zn.ornamental, The Pod, Cockfield
– Vertical Cladding / Rainscreen – Met-Clad Contracts, Friars Walk Development, Newport
– Roof Sheeting – KGM Roofing, Marshgate Drive, Hertford
– Shingles & Shakes – John Brash & Co. (with Endeavour Roofing Contractors), Alexandra Gardens Care Home
– Solar on Roofs – Bauder (with Hodgson Sayers), Byker Wall, Newcastle Upon Tyne
– Green Roofs – Prater (with Radmat Building Products), Alder Hey Children's NHS Foundation Trust, Liverpool
– Mastic Asphalt and Hot-Melt Roofing – IKO (with Knight Asphalt), Westminster Cathedral, London
– Reinforced Bitumen Membranes – Bauder (with Mitie Tilley Roofing ), ROM, Sheffield
– Liquid Roofing and Waterproofing – Centaur Technologies (with Western Flat Roofing Company), South Cloisters Kitchen Roof, Exeter University
– Single Ply Roofing – Sika Sarnafil (with Contour Roofing), Ewart Grove, Wood Green
– Single-lap Tiling and Slating – Wienerberger (with Timby Traditional Roofing), Burgess, Wellingore
– Double-lap Slating – Timby Traditional Roofing, Tait Gazebo, Gainsborough
– Double-lap Tiling – Karl Terry Roofing Contractors, Shipley Farm, North Elham
– Heritage Roofing – Karl Terry Roofing Contractors, The Cloth Hall, Smarden
Below are a selection of the winning projects from the UK Roofing Awards 2016, for a full list, click here.
The UK Roofing Awards aren't just about projects however, and also reward the individuals and organisations that go above and beyond the call of duty.
NFRC Health & Safety Champion 2016 went to Ben Orton of Weatherproofing Advisors.
The award for Exceptional Contribution to Training¸ in partnership with CITB, went to Geoffrey Parkinson, regional manager for NFRC Northern Ireland.
The companies that scored highest within their roofing discipline in the NFRC Safety in Roofing Awards for 2016 were, in slating and tiling; Wensley Roofing¸ for flat roofing; Stormforce Roofing & Maintenance and for industrial roofing and cladding; Industrial Construction (Sussex).
The Lead Sheet Association's Young Lead Worker of the Year award went to Tim Fuge¸ a self-employed leadworker from Cornwall.
The Lead Contractors Association presented the Murdoch Award and Murdoch Sponsor's Award for best leadwork. The former was won by Lead-Tech Roofing for Rygar House in London. The Sponsor's Award went to Leadwise Contracts for Stormont Castle in Belfast.
Other hosts of the UK Roofing Awards 2016 were the Roof Tile Association (RTA), the Liquid Roofing and Waterproofing Association (LRWA), the Lead Contractors Association (LCA), the Lead Sheet Association (LSA), the Federation of Traditional Metal Roofing Contractors (FTMRC), Single Ply Roofing Association (SPRA), the Metal Cladding and Roofing Manufacturers Association (MCRMA), CompetentRoofer, and the Green Roof Centre.
The UK Roofing Awards also thanked all of its sponsors for their continued contributions, this year they were: SIG Roofing, Associated Lead Mills, Axter Limited, Bauder, Carlisle Construction Materials Europe, Chandlers Roofing Supplies, Cromar Building Products, Cupa Pizarras S.A, Easy-Trim Roofing and Construction Products, Eco Green Roofs, ICB (International Construction Bureau), Icopal, IKO, John Brash & Co., Klober, M&J Group, Manthorpe Building Products, Marley Eternit, Radmat Building Products, RAM Consultancy, Recticel Insulation, Monier Redland, Renolit Cramlington, Rockwool, Sika, SOPREMA UK and Triflex (UK).
You can view this year's winners' and finalists' projects at www.roofingawards.co.uk.