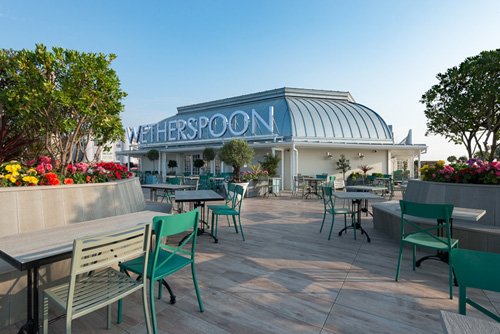 The winners of the UK Roofing Awards 2018, hosted by the National Federation of Roofing Contractors (NFRC), were announced at a ceremony hosted by BBC's Dan Walker at the Park Plaza Westminster Bridge hotel on Friday 11 May.
Now in its 11th year, the UK Roofing Awards has become a firm fixture for the roofing sector to come together and celebrate outstanding standards of design workmanship and safety demonstrated throughout the year.
NFRC chief executive James Talman, who introduced the UK Roofing Awards, said: "These Awards stand as a reminder to us all of the important contribution the roofing sector makes through innovative products, design and workmanship to the construction industry."
The winners announced by category are:
Roof Slating
Claude N Smith for Marshals Yard Development
Roof Tiling (Sponsored by ECIC)
Monier Redland working with DM Roofing & Roughcasting for Shettleston New Parish Church
Heritage Roofing (Sponsored by Klober)
Rowlands Roofing for LLwyn Celyn
Green Roofing
Bauder working with EJ Roberts Roofing for Clapham Park
Sheeting and Cladding/Rainscreen
Malone Roofing (Newbury) for Hungerford Fire Station
Fully Supported Metal (Sponsored by Metal Solutions)
Full Metal Jacket for The Victoria Royal Pavilion
Lead Roofing (Sponsored by Chandlers Roofing Supplies)
Full Metal Jacket for British Museum – Islamic Gallery
Single Ply
Ithaca Roofing for Hawthorns Care Home
Liquid Applied Roofing & Waterproofing and Hot Melt
Polyroof working with Sarnian Roofing for The Little Chapel
Innovation (Sponsored by EagleView)
Axter working with Tilbury Contracts for Dylon Works
Mastic Felt
IKO PLC working with Sussex Asphalte for St Paul's Cathedral
Reinforced Bitumen Membrane
Langley Waterproofing Systems working with Opus Waterproofing Solutions for Girdlestone Estate
Small Scale Project
Polyroof working with Cure Roofing for Rose Cottage
Large Scale Project (Sponsored by Wienerberger)
Partnering Contractor's Roofing for New Bracken House
Roof of the Year Award (Sponsored by SIG Roofing)
Full Metal Jacket for The Victoria Royal Pavilion
Industry Choice Award (Sponsored by Radmat Building Products)
Longworth Building Services for The Bund

The UK Roofing Awards also rewarded the individuals and organisations that go above and beyond the call of duty:
NFRC Health & Safety Champion Award 2018 went to Sam Baldwin of Longworth Building Services.
The Local Hero Award (Sponsored by SIG Roofing) went to Lee Moran of Moran Roofing Specialists
You can view the full list of this year's winners and finalists at www.roofingawards.co.uk.