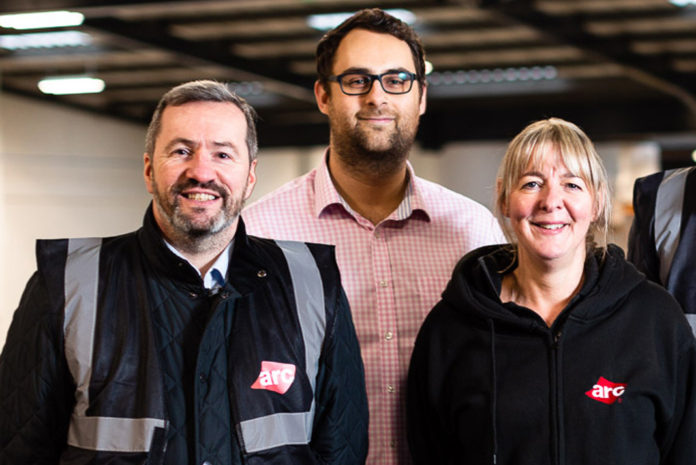 ARC Building Solutions has announced the promotion of long-standing colleagues Clair Richardson, as operations manager, and George Danzey-Smith, as commercial manager – both will become members of the company's senior management team.
Clair will take overall responsibility for the daily operations within ARC's manufacturing facility, leading the existing production team managers and team leaders to deliver the company's future strategy.
Having worked for the business for over 10 years, Clair brings extensive experience in managing the company's health and safety, quality and environmental control to her new role.
Speaking about her appointment, Clair said: "I am delighted to have been appointed as operations manager. We have a fantastic team in our factory who all share the same enthusiasm and passion to produce the highest quality products for our customers, and it will be a joy to work alongside them. As we continue to get back on our feet following the coronavirus pandemic, I am really looking forward to this new challenge and helping to drive the business forward."
With a wealth of knowledge and experience in the fire stopping market, as ARC's new commercial manager, George will take charge of the marketing of products and services, managing customer and supplier agreements, as well as new product development, testing and certification. He will also oversee internal sales and the customer service department.
Commenting on his next challenge, George said: "Having been involved with ARC since its inception, the company has continued to go from strength to strength, and it has been an honour to be a part of this journey. My new role will give me the opportunity to build strong relationships, promote, drive and support the strategic/commercial intent of the company and further build our reputation in the industry. I am excited to help deliver on ARC's continued growth and success."
The two key appointments reaffirm ARC's commitment to continual company development and promoting from within. Clair and George will sit alongside Neil Weeks, managing director, Tanya Traill, HR and training manager and Aaron Sharp, technical sales manager.