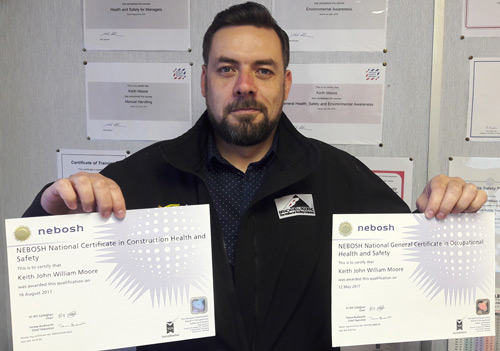 A third employee at Bracknell Roofing has achieved the health, safety and environmental practice and management accreditation from the National Examination Board for Occupational Safety and Health (NEBOSH).
The company says it has a dedicated in-house health and safety department based at its Burton-upon-Trent headquarters with two employees who have already achieved the accreditation. Now Keith Moore from its Lancashire branch is the first person to achieve it for one of the company's eight regional offices.
The company has also revealed that it has another two employees from other regional offices in the process of NEBOSH training as part of plans to have the accreditation embedded and 'on the ground' across its business.
The company's divisional director Simon Smith said that a head office with NEBOSH accreditation as a cornerstone is good enough for most companies, but Bracknell Roofing sees the value in going above and beyond what is required. Simon commented: "We see the value of having an extra layer of NEBOSH-trained people on the ground in all of our branches around the country. This is crucial to ensuring that the highest standards of health, safety and environmental practice are implemented for the benefit of our employees, our contractors and the other tradespeople working on any contractor's site. We are really seeing the benefits of it within our business and it is the right thing to do.
"Having this extra tier of NEBOSH knowledge and experience within our business can only benefit us moving forward. Bracknell Roofing has grown to become one of the UK's largest roof, slate and tiling contractors, and we continue to push back the boundaries and set even higher standards of excellence in every part of our business."