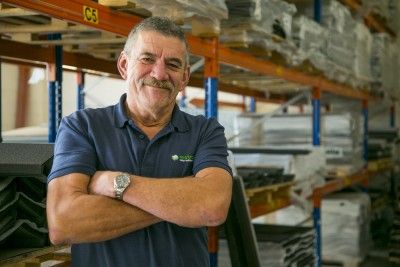 Metrotile UK has announced the appointment of Glenn Everest to lead its training operations.
Mr Everest, who now boasts more than 40 years' experience in fitting lightweight steel roofing systems, began installing steel roofs as a 16 year old trainee in New Zealand, the country where the products are used on the majority of housing projects
He has been sporadically working with Metrotile as a freelance technical consultant since the company was set up by managing director John Cunningham in 2000, and his new permanent role will see him train roofers in the skills required to install the company's variety of products.
Speaking of Mr Everest's appointment, Mr Cunningham said: "Glenn's been working with us for a while, helping out with technical enquiries and visiting sites, as well as installing our systems and it's safe to say there's no one who knows more about installing lightweight steel roofing, either in the UK or probably even the world.
"Lightweight steel roofing is on the cusp of something spectacular, as it begins to break into the mainstream against the traditional roofing solutions of clay, concrete and slate and its many benefits become more widely appreciated.
"So having Glenn on board, to help us manage what I know will be an increased requirement over the coming years, is an exciting appointment."