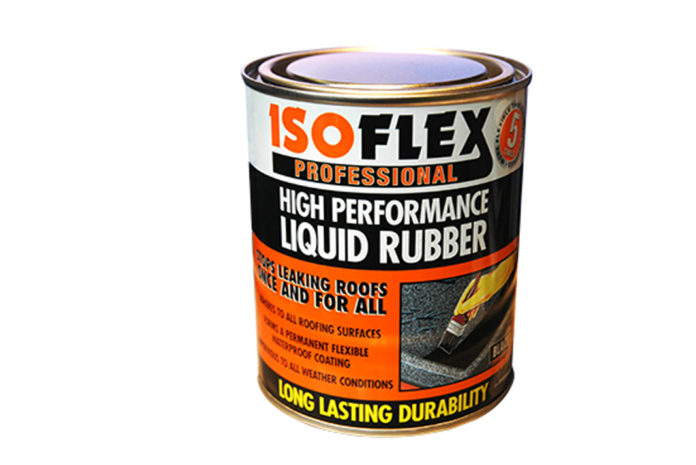 Isoflex Professional Liquid Rubber is a complete liquid rubber roofing system from Thompson's, the makers of Water Seal.
The Isoflex Professional system comprises a liquid rubber and primer, and a clean-up fluid for a truly professional finish, even on tricky surfaces.
Isoflex Professional High Performance Liquid Rubber is five times more flexible than traditional bitumen coatings, providing up to 20 years of protection for all types of roofing including felt, asphalt, slate and tiles. According to Thompson's, its tough, durable finish will not crack or peel and can be used on virtually all roofing surfaces, making it the professional's choice for roof repairs. As its name implies, Isoflex Professional Liquid Rubber flexes with the natural movement of the roof, is UV and weather-resistant for any conditions, and dries in just 12 hours. After a good stir of the tin, Isoflex is easy-to-use, spreads well and fills gaps and overlaps on any roofing surface.
To make roof repairs even easier and more effective, Isoflex Special Primer provides the perfect prep for the most difficult roofing surfaces, even old roofing felt, tiles, bricks, cracked bitumen and mastic repairs. This tough, durable base coat dries in just two to four hours and works even on dusty, flaky, old and porous surfaces to provide a permanent bond with the substrate. Isoflex Clean-Up Fluid is ideal for cleaning up drips and splashes around the repaired area after using Isoflex Professional Liquid Rubber. The ready-to-use liquid not only cleans up spills but also cleans and restores brushes after use.