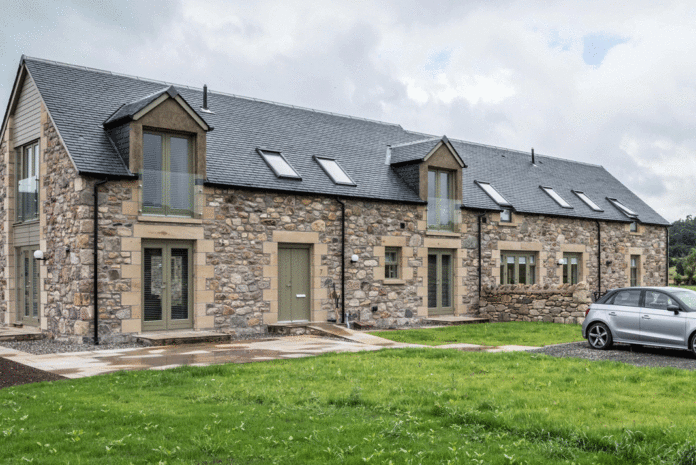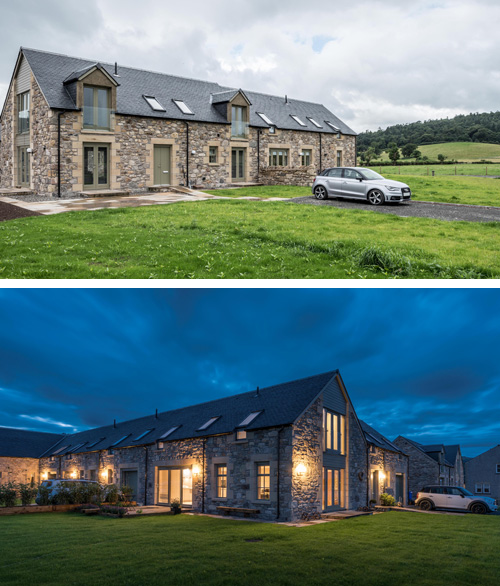 Crammond Select Homes has recently renovated the Powis Mains Farm in the small village of Blairlogie, one of Scotland's first conservation villages. CUPA PIZARRAS slate was chosen as it met the specific requirements of the heritage site surrounding durability and appearance.
This project involved removing the old farm buildings and barns and replacing them with 11 three-bedroom homes.
Due to Blairlogie being a heritage area, the local authority enforced conditions for the new buildings and it was a stated that all homes must utilise specific materials to blend in with the traditional Scottish architecture of the village. For this, slate roofing played a key role and CUPA PIZARRAS' Heavy 3 was specified.
Bobby Halliday, the developer and architect of this project, said: "Heavy 3 was ideal for this project due to its close resemblance to the traditional highland slate from Ballachulish that is no longer produced, making the CUPA PIZARRAS slate the primary choice for traditional Scottish slate roofing, whether it be for new or refurbished roofs. In addition, it is the only slate that can successfully withstand the Scottish weather, thanks to its thickness of 7-8mm."
Heavy 3 is said to offer full peace of mind with its 100-year warranty. In fact, CUPA PIZARRAS has never had to replace one of its roofs in Scotland.
Bobby Halliday went on to add: "CUPA PIZARRAS is a well-established company that I enjoy working with. When we took the scaffolding down for this project, there were very little breakages, making this roof manufacturer stand out amongst many competitors.
"We have completed seven homes to date and all 11 properties are set to be finished in a few months. It's also been great that we have received many compliments on the overall appearance of the houses."
A previous similar project that Bobby Halliday Architects and Crammond Select Homes have completed with CUPA PIZARRAS has also been awarded 'Development of the Year' by the Herald Property Awards.
Derek Waters of Derek Waters and Sons, the roofing contractor for the above project, said: "We use CUPA PIZARRAS frequently, as the slates are solid and can stand up to any powerful weather. When we complete each house, it appears to have a perfect aesthetic every time and this is thanks to this high-quality product."
Allan Liddell, area sales manager at CUPA PIZARRAS, added: "It's excellent that CUPA PIZARRAS has become a part of this incredible renovation project. I'm pleased that our slate is chosen for its high quality, but also that it can be used as a way to allow certain parts of Scotland to hold on to their special heritage."