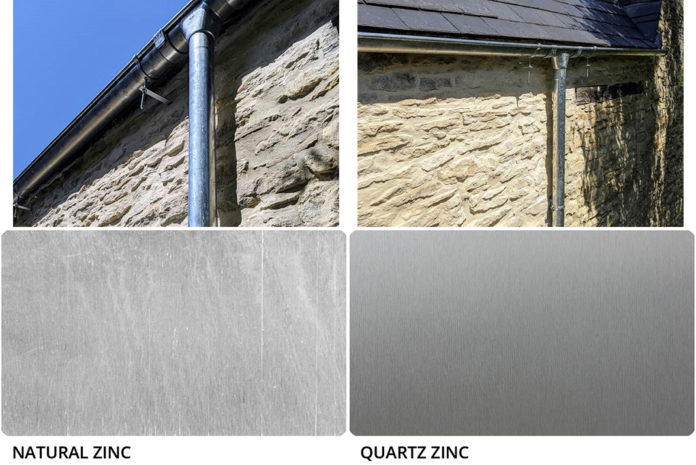 Rainclear Systems has responded to the demand for its Natural Zinc rainwater system by adding it to the range it stocks for next day delivery to mainland UK addresses.
The Natural Zinc Rainwater System was only added to the website, originally with a 15-day lead time, in April. However, the company will now begin to stock the range in a 115mm half-round profile gutter and 80mm diameter round downpipe, from 5 July.
Natural Zinc – The eco option
A durable material with a lifespan of 30-100 years, zinc is cost effective, both from an initial outlay and from a life-cycle perspective.
Zinc guttering is perfect for making a statement. With a very shiny surface initially, once installed on a building, natural zinc will weather and form a beautifully textured grey patina.
The development of the patina can take several years, depending on the environmental and geographic location of the installation. It also provides a protective top layer to the material, making zinc a durable solution that requires minimal maintenance. The patina also means it is self-healing so any surface scratches will not require any 'touch up'.
Marks can occasionally appear on zinc surfaces that are unexposed to rain or are not regularly rinsed, so if a uniform finish is desired, a different zinc option, like the pre-weathered quartz zinc, should be selected.
Initially a bright silver, the metal slowly turns into a darker shade, like lead, making it a great choice for period properties, as well as adding character to more contemporary buildings.
Another great property of zinc that makes it a great choice for guttering is that it is poisonous to moss and algae. This means that it prevents the growth of moss, mould or algae, and there will not be a build-up of plant materials over time, thereby reducing the need for maintenance and gutter clearing.
The Natural Zinc rainwater system is simple to install, with innovatively designed rubber sealed unions and push-fit stop ends, so gutter lengths will not require any sealant, soldering or riveting. The brackets, which are available in the 'rise-and-fall' versions, in 'rafter' side and top-fix versions, or versions for attaching to a fascia board, are from the galvanised steel range, which is coated with zinc, so it will gradually patina the same way.