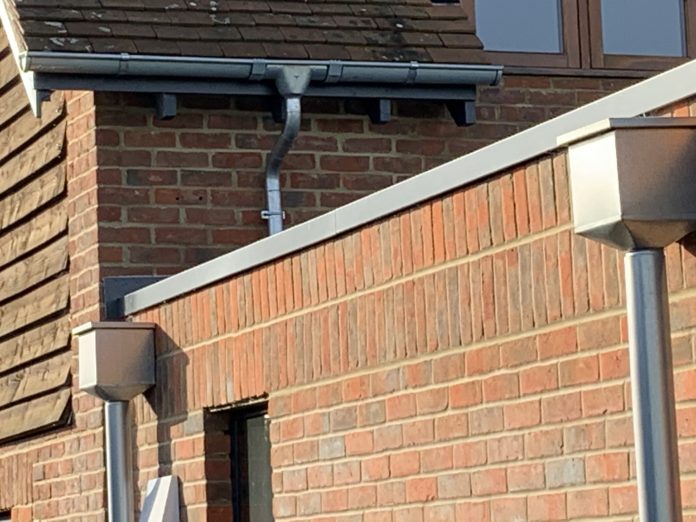 Galvanised steel guttering, and the colour coated versions, are the more environmentally friendly alternative to plastic gutters – with the metal's considerably longer life and 100% recyclability at end of life.
It does not contaminate the environment by losing micro-plastics into the ecosystem in the production of new plastic and old plastic waste dumped in landfill fragmenting and ending up in the stomachs of earthworms, then birds etc.
While the initial cost of metal gutters remains greater than plastic, Galvanised Steel gutters are the most affordable alternative.
And considering the greatest cost of installation will be the scaffolding needed to access the roofline, the less often you must replace it, the better.
The Infinity Galvanised steel rainwater system comes with a 15-year manufacturer's warranty but should have a life of over 25 years with correct installation and basic ongoing care/maintenance.
These gutters need very little maintenance to stay looking good and working effectively for much longer than the cheaper alternative. You simply just need to remove any collected debris annually and an occasional wash with warm soapy water or a jet wash.
Rainclear Systems holds a huge amount of stock of the plain Galvanised Steel (115mm, 125mm, 150mm and 190mm) and colour coated Galvanised Steel in its warehouses to be able to get its durable, attractive, and eco-friendly products out to mainland UK sites and addresses the next day.
Deliveries unaffected by Brexit
Having seen footage and heard news bulletins about long delays at ports, Rainclear Systems understandably received a few calls from customers asking whether its deliveries have been affected.
Most of the products are made in the UK and for those that aren't – Galvanised Steel, Copper and Quartz and Natural Zinc products, which are made in the EU – the company keeps large stocks in two warehouses in Swindon.
Charlie Cutforth, sales director at Rainclear, said: "Throughout 2020, we've added two new colours: RAL 9016 White and RAL9007 'Grey Aluminium', a complete Stainless Steel system and a smaller gauge 60mm downpipe to the ranges we offer with swift delivery and great customer service.
"We've kept huge stocks across our two warehouses to be able to offer the plain Galv, and seven colours: Black, Anthracite Grey, Grey White, Dusty Grey, Sepia Brown, White and Grey Aluminium, all with next day delivery."