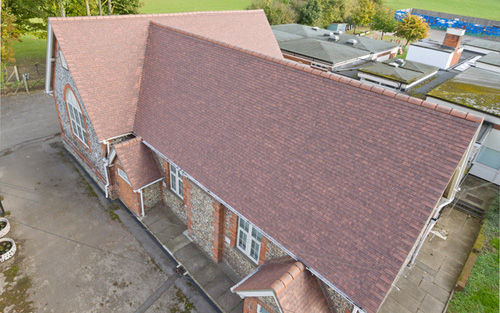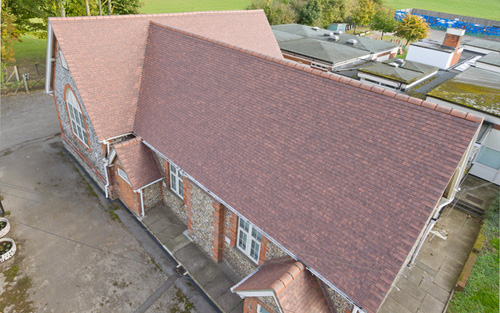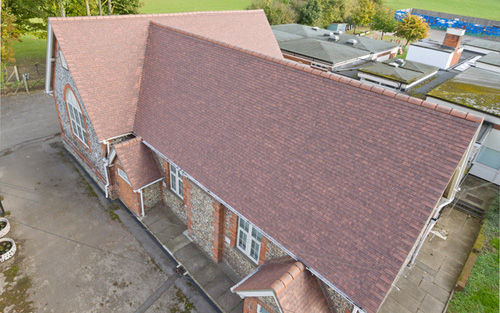 Marley Eternit's Acme Double Camber clay plain tiles have been used to create a beautiful multi-toned clay roof, as part of a renovation project at a 19th century school in the Buckinghamshire village of Monks Risborough.
Set in a conservation area, Monks Risborough C of E primary school was founded in 1855 and was expanded during the mid 20th century.
Although the original tiles had been replaced, damage caused by debris from an adjacent tree meant that the clay roof was in such a poor condition that Buckinghamshire County Council decided to replace the entire roof.
Contractor Allen Roofing chose the Acme Double Camber clay tiles because they gave a similar appearance to the existing roof and the rustic aesthetic complemented the historical features of the building.
The roofing contractor worked with Marley Eternit to get samples of the tiles approved for use by Buckinghamshire County Council and the school.
Adam Griffin, building surveyor from Buckinghamshire County Council, commented: "We're very pleased with the end result and the Acme Double Camber tiles create a stunning roof that is complementary to the 19th century school building."
Marley says Acme Double Camber clay plain tiles are the only ones on the market to have both a longitudinal and latitudinal camber. This unique double curve gives the designer the opportunity to create highly textured roofscapes with accentuated light and shade. The tiles are available in a range of six colours that add character and have a lasting beauty which improves with each passing season.