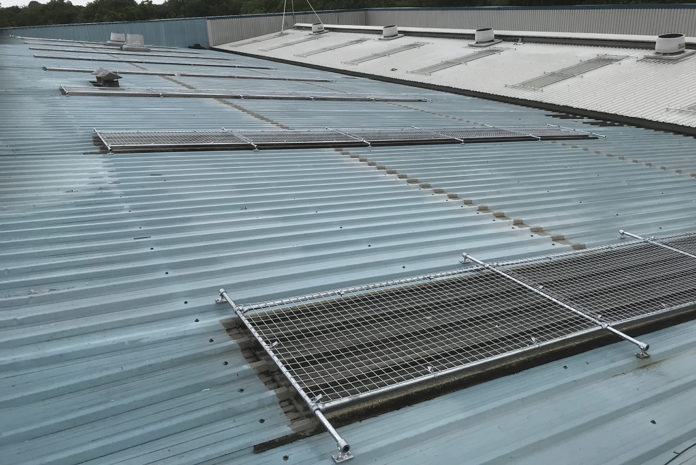 Jonesco (Preston) Ltd is a family-run manufacturing company with decades of experience providing reliable and durable rotational moulded solutions to over 60 countries worldwide.
The main roof on the Preston HQ is a corrugated sheet roof that featured exposed skylights. Wanting to establish their working at height requirements in order to protect the maintenance team and outside contractors when working on the roof, Jonesco (Preston) Ltd contacted Safesite to conduct a site visit and survey.
Following the visit, Safesite proposed a protection system comprising of Kee Cover, KeeGuard Topfix and a KeeLine system, to be installed on every roof apex, allowing for the easy removal and cleaning of roof fans. Included in the scheme was a riveted KDH3 around the roof access hatch, safe systems training and personal protection equipment (PPE) for use with the KeeLine system when lifting fans out for replacement.
The KeeLine horizontal lifeline system provides continual, handsfree protection for up to three users when used as a fall arrest system. The system is designed so that the traveller which connects the user to the systems simply glides over the system's brackets, overcoming the need to detach from the system. KeeLine also incorporates PAS (Progressive Absorbing System). If the user falls, the shock absorbers, intermediate brackets and support posts will deploy and deform so that the loadings applied to the building's structure is below 10Kn.