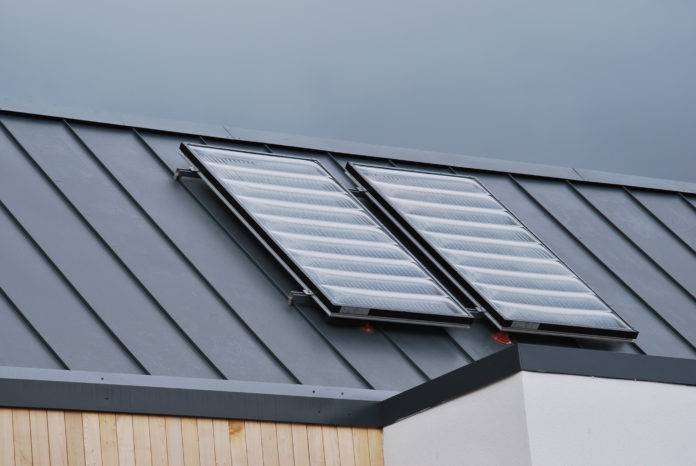 With the countdown to net zero well underway, there is a big emphasis on how we can all improve our sustainability and lessen our carbon footprint. The Future Homes Standard forms a key part of this; a new set of standards that will complement the Building Regulations developed to ensure new homes are future-proofed with low carbon heating and world-leading energy efficiency.
Solar panels will have an important part to play in the delivery of this greener future, with the UK's solar sector expected to double by 2030. In response, Tata Steel will enhance the 25-year Confidex Home Guarantee for the residential sector, making it 'solar ready'.
The Confidex Home Guarantee is valid on standing seam residential roof and wall systems manufactured from Tata Steel's Colorcoat Prisma and Colorcoat HPS200 Ultra and available via its four UK supply chain partners: Tata Steel (Colorcoat Urban), Catnic (SSR2), Euroclad (Vieo) and EQC (Seamlap/Seamlock).
Originally launched in 2019, the revamped Confidex Home Guarantee offers the same renowned protection against paint peeling on the pre-finished steel product for a period of 25 years, regardless of where the property is located (coast or inland); in addition to now allowing homeowners to install clip and fix solar panels on their roofs. Solar panels can be installed at any point during the 25-year guarantee period, without prior consultation from Tata Steel.
Tata Steel's new 'solar ready' Confidex Home will help developers and contractors in their delivery of greener homes, with the roofs ready for future solar panel installations. What's more, the Guarantee enables developers to offer added peace of mind to prospective home buyers, with an additional 15 years on top of the 10-year NHBC guarantee.
While, as a result of the Confidex Home Guarantee being a direct agreement with Tata Steel, homeowners can benefit from the assurance that, in the unlikely event of a material fault, it can be promptly resolved and rectified, without the need to go via the supply chain or their home insurance. The Guarantee is also transferrable in the event of the property being sold and is written in accordance with consumer law.
Speaking about the revamped Guarantee, Dr Peter Barker, new product development manager at Tata Steel, said: "In the run up to 2050, the UK is changing the way it builds the homes of the future. As part of the Future Homes Standard, homes built from 2025 will have to produce 75% to 85% less carbon emissions, compared to homes delivered under the current regulations, with the installation of solar panels becoming increasingly popular.
"As such, we took the decision to update our renowned Confidex Home Guarantee in line with the changing face of the construction and housebuilding industries to reflect the sustainable agenda. Through the new 'solar ready' Confidex Home, we're proud to be a small part of this journey to net zero, as well as being the only pre-finished steel manufacturer to offer a standing seam roof and wall system guarantee agreement direct to the homeowner."