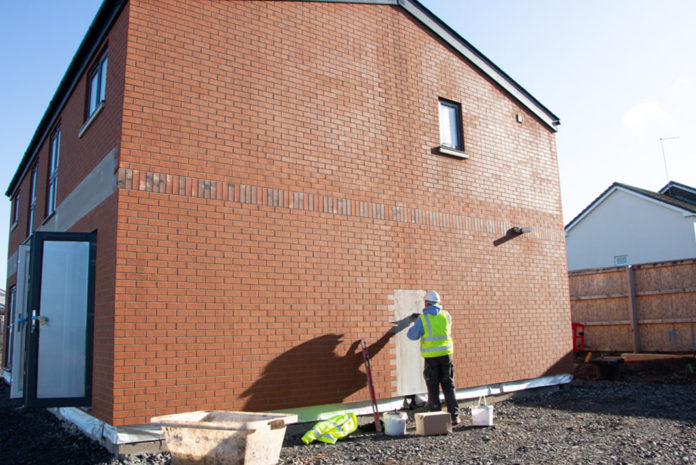 The multiple benefits of modular development, from cost to sustainability to efficiency, are playing a valuable part in addressing not only the housing shortage but also the impact of climate change. DuPont™ Tyvek membranes and systems are also playing their part in this new housing story, as the perfect partner to offsite construction.
For a new 73-unit housing development under the Homes for England scheme on a brownfield site in Blackburn, Modularwise Ltd of Powys worked with client Places for People to create the optimum, easily replicable solution. This consisted of two types of home: a number of detached four bedroom houses plus multiple three bedroom models. The three bedroom homes combine four distinct modules, with the bedrooms and bathrooms located in the duo pitched roof.
Mike Rutland, business development, professional body accreditation and compliance manager for Modularwise explains: "In terms of reducing the carbon footprint of the development throughout the chain, material choices were very important. This is primarily an off-site timber build on a steel frame floor, with a brick slip or rendered finish 90% applied off-site, then completed on-site. When it came to the design of the building envelope, energy performance and airtightness were as vital as weather resistance and moisture control, therefore the appropriate membrane system was essential. Tyvek offered the ideal combination of reliable products, accessories and service."
The modules feature the Tyvek Supro advanced breather membrane to the roof, a product which exceeds BS5534 regulation without restriction and is suitable for all wind zones, regardless of height or topography. The Blackburn site is in an exposed location, so superior wind uplift resistance together with a dry fix for ridges and gables added to the membrane's suitability. In fact the ingenious BRE-approved wind calculator tool developed by the DuPont Building Knowledge Centre made itself particularly useful in this specification.
To meet STA guidance requiring a breather membrane to also act as a second line of water ingress defence with no leakage, Tyvek Reflex, which is both W1 rated and offers a low-e surface, provided a combined moisture control and thermal solution in one hi-tech and trustworthy layer.
These membranes are part of a system that includes a comprehensive package of tapes and sealants for every requirement, and is supported by expert guidance from the Tyvek technical team.
Indeed, efficiency and expertise are at the heart of the Blackburn development, from the performance of the materials to the construction process itself. For Modularwise, once the design and sourcing processes are in place and manufacture begins, it takes approximately twelve days to complete the first pod, with new pods coming through the line every day. The completed pods are then transported to site where it takes around one day to erect a completed house.
The Tyvek membranes are fitted on the factory floor in controlled conditions, without having to battle the elements, allowing the installation to achieve optimum airtightness. Once the individual modules are connected on site, Tyvek specialised tapes are used to seal the laps, adding to the efficacy of both project design and building methods.
In the sophisticated new world of high quality pod and modular housing there are many considerations when it comes to specification. It's crucial not only that all building regulations are met – and futureproofed against – but also that any requirements demanded by warranties and insurance policies are satisfied.
"All our buildings are warrantied, therefore every product needs to come from a reputable company with BBA certificates and a record of independent testing, meaning mortgage lenders can have confidence that the house will perform," adds Mike Rutland. "The beauty of these membranes is that the modules are already watertight, weathertight and airtight. Once everything is connected and air pressure tests conducted we usually find the houses perform even better than designed. Furthermore the technical support and service from Tyvek was excellent – if we needed anything we got on the phone and it was job done."
The Blackburn site is on course to be completed and ready for occupation in less than 3 months from the start of construction – this is the flexibility that companies such as Modularwise, teamed with products such as Tyvek®, can bring to today's – and tomorrow's – housing market.