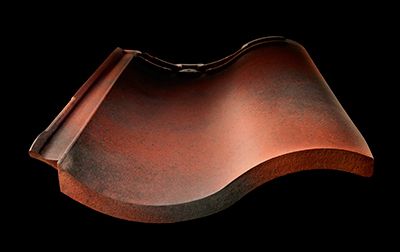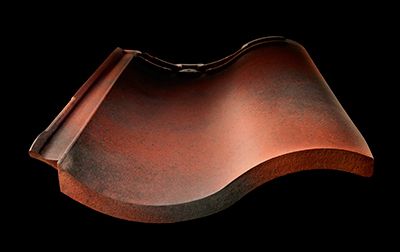 Marley Eternit says breakthrough innovation has combined with a traditional aesthetic to meet the needs of UK architects and specifiers seeking an easy-to-fix clay tile, with the launch of the first-of-its kind Lincoln clay pantile.
Lincoln features a classic s-curve profile and thin leading edge, while also benefitting from a unique design making it easier and faster to install than traditional pantiles.
The company says the tile is as simple to install as a concrete roof tile and can be used to a low minimum roof pitch of just 17.5 degrees, giving Lincoln a great deal of versatility on a wide range of projects where a traditional pantile appearance is required.
Marley Eternit says that the Lincoln pantile was developed following extensive research, which showed the need for a traditional clay pantile that could be installed quickly and easily on site without the need for specialist roofing skills.
The new pantile is available in Rustic Red and Natural Red with a range of fittings and is also compatible with Marley Eternit's Universal systems for a mortar-free, low maintenance system, or can be installed with the company's Mortar Hip and Ridge fixing kits for more traditional builds.
The Rustic Red has a subtle weathered appearance which creates a premium reclaimed finish on the roof, suitable for house-building and refurbishment projects, where the project may need to match the local vernacular or be subject to local planning conditions.
The Natural Red has a smooth, more uniform appearance, with clean lines giving a classic pantile appearance perfect for new housing, commercial and local authority projects.
Sarah Jackson, marketing product manager, commented: "At Marley Eternit we've focused on developing products that are easy and fast to use on site whilst maintaining a traditional aesthetic.
"With changing weather conditions and increased rainfall patterns, the new Lincoln and its comprehensive range of fittings and accessories, provide a high performance pantile range to ensure architects and specifiers can meet the requirements of today's roofs."
The tiles can be installed to meet the latest fixing requirements to BS 5534 and the NHBC Technical Standards, using Marley Eternit's one-piece tile clip, SoloFix, which it says can save up to 30% roof clipping time compared to traditional fixing.