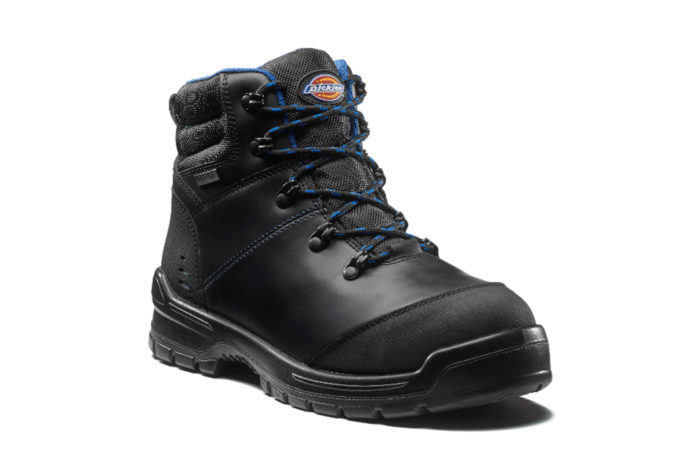 Working on roofs is a high-risk occupation that is filled with potential hazards.
Loose debris, slip hazards, ladders, and exposure to weather elements all pose a great deal of risk to a roofer.
One of the most important pieces of personal protection equipment that any roofer has in order to complete the job safely is safety shoes – one slip or uneven step can cause severe injuries. Therefore, an appropriate pair of safety boots is essential!
Safety boots endure a substantial amount of abuse every day because of the constant abrasion from the materials used on a roof. A good pair of boots should be robust enough to offer sufficient protection on-site, lightweight so as not to weigh your feet down, offer protection against heat and moisture build-up, while at the same time allowing your feet to breathe. This is where the Cameron Safety Boot comes into its own.
Benefitting from a composite toe-cap and non-metallic midsole anti-penetration protection, the lace-up Cameron Safety Boot is lighter than a steel toe-cap boot. Having been put to the test, the boots are EN ISO 20345:2011 S3 WR SRC rated, which means that they are waterproof, anti-static, and slip-resistant to fuel and oil.
Providing excellent ankle support, the Cameron Safety Boots feature a padded collar and tongue, providing tradespeople with all-round comfort, especially when perched on a roof. Ensuring a tight grip on all surfaces, the mid-sole cleated design allows for outstanding traction, while still allowing plenty of mid-sole flex.
Available in three colours – black, brown and honey, the boot's upper is made of leather to allow your feet to breath, while a removeable foam insole with a breathable membrane makes it perfect for soaring temperatures.
Priced at £52.50, the Cameron Safety Boots offer value for money, and compare well to other styles on the market.
In a nutshell, the Cameron Safety Boots boast the following features:
Anti-scuff toe
Anti-static
Breathable mesh lining
Composite toe-cap
Leather heel puller
Direct injection construction
Dual density polyurethane
Energy absorbing sole
Fuel and oil-resistant
Metal free
Non-marking
Non-metallic anti-penetration underfoot protection
Padded collar and tongue
Removable foam insole
SRC slip-resistant
Waterproof membrane.