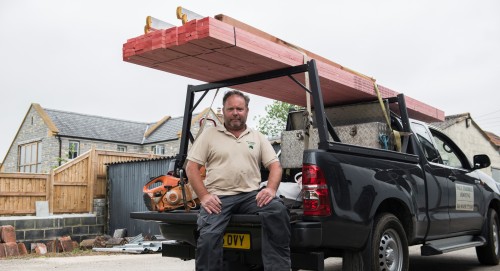 A collapsible pick-up truck cargo management system supplied by Auto Styling Truckman has enabled a roofing contractor to ensure the safe transportation of tools and equipment.
Paul Trebble, who along with his team of four staff provides domestic roofing services across South Somerset, upgraded to the Invis-a-Rack racking system when he acquired a new Toyota Hilux Extra Cab.
The system, which enables tradespeople to carry ladders and timber at cab level and free up the truck bed for tools and equipment, replaced a 'DIY' version built by Mr. Trebble for his old Mitsubishi L200.
The self-built version prevented the need to strap ladders and battens to the pick-ups' headboard that, due to the length of the new bed, would have made the angle of the equipment being transported potentially hazardous. However, the 'DIY' version had to be removed as a single unit when not required. The Invis-a-Rack, alternatively, is retractable and can be folded away into cassettes clamped to the pick-up without impacting on truck bed storage space.
Manufactured from lightweight aluminium, Invis-A-Rack provides a sturdy frame when erected that can hold up a static load of 220kg. The Extra Cab version also includes a small storage box in the cassettes, which is ideal for storing tie-down straps and bungees.
Paul Trebble said: "I've been in the roofing business for nearly thirty years and have always used pick-up trucks, but could never find a safe and efficient way to carry ladders and battens safely and without losing important storage space in the truck bed. 
"The collapsible Invis-A-Rack saves a lot of time and effort, but most importantly it offers real safety benefits. Strapping equipment and timber to the headboard is not particularly safe, which is why I created my own frame. While it solved one issue, it was not the most practical solution in itself, which is why I was really pleased to discover Auto Styling Truckman's Invis-A-Rack."
Auto Styling Truckman, which manufactures and supplies a number of pick-up truck and 4×4 accessories, holds the exclusive European distribution rights for Invis-A-Rack after striking an agreement with its US inventor, DeeZee.
Mike Wheeler, managing director of Auto Styling Truckman, said: "Invis-A-Rack is proving to be an effective storage solution for tradespeople.  It is a classic piece of invention, which through its simplicity and ease of use, makes a practical difference to users, which Paul Trebble and his team of roofers are experiencing first hand."