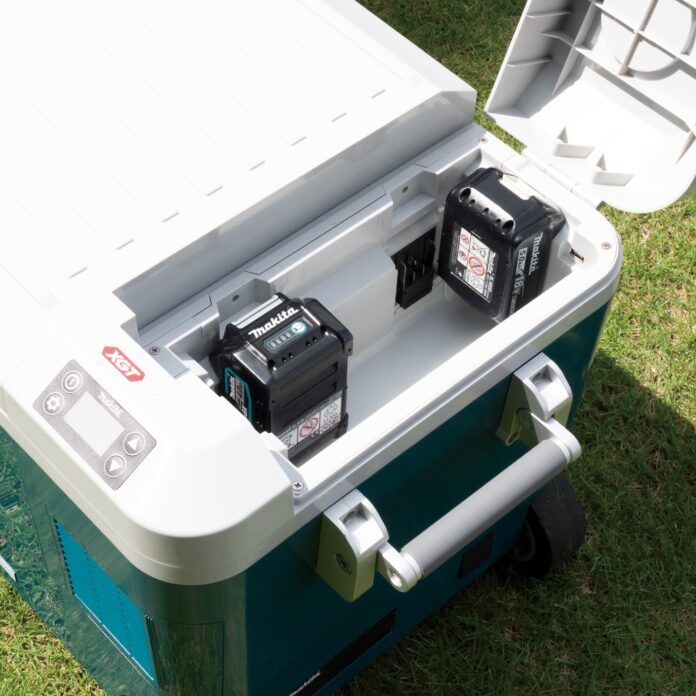 No matter the season, the new Makita Cooler & Warmer Box CW002G is here to make life easier. Suitable for both work and leisure, this product is great addition to professionals' XGT or LXT cordless collection.
Keep food and drinks at the perfect temperature with Makita's largest Cooler & Warmer Box yet, the 50-litre CW002G. This handy product has two battery ports for either 40V XGT or 18V LXT batteries, providing long run times. Alternatively, it can be powered via an in-vehicle 12v / 24v DC power supply, or via mains power supply with a 240v AC adaptor.
Moreover, it benefits from a total of 14 inside temperature settings, ranging from -18oC to 60oC. In more detail, when paired with 2x 5.0Ah XGT batteries, this unit can operate for up to 10 hours at -18oC, 24.5 hours at 5oC (normal fridge temperature), and 6 hours at 60oC (runtimes shown are based on the box being pre-cooled – runtimes will be reduced if cooling from room temperature.)
This is a highly convenient product with a large 50-litre capacity of storage space, tall enough for 2-litre milk cartons. Specifically, the internal dimensions are 867L x 465W x 476H mm.
Durable with an IPX4 rating, the CW002G features large 100mm wheels and a pull handle for convenient transport, and side grips for easy lifting. Last but not least, it is fitted with a convenient LED display to provide users with temperature and battery levels and easily change settings at the touch of a button.
Speaking on the new release, Kevin Brannigan, marketing manager at Makita UK, commented: "We're excited to be releasing the new CW002G Cooler & Warmer Box, which will benefit our customers during work or leisure. The powerful, cordless solution is as durable as it is functional and can run for up to a full day and night.
"It also comes with a new key feature – a drainage plug that allows the user to easily remove melted ice. Whether at the park, fishing, camping, or on the jobsite, this box is excellent at ensuring that food and drinks stay at the desired temperature regardless of the season."