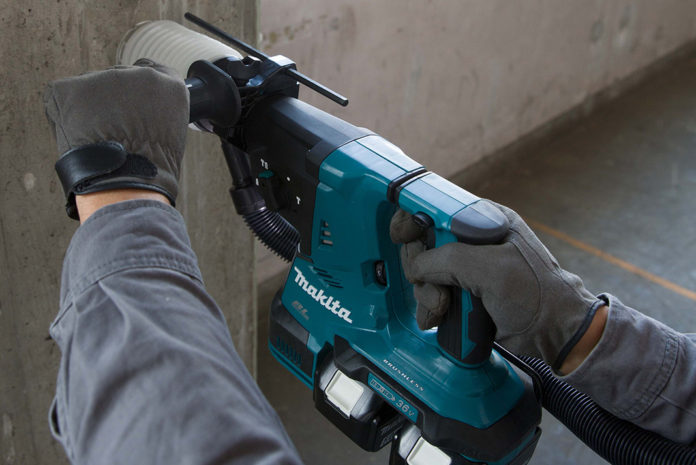 Makita has added a new cordless SDS-PLUS rotary hammer drill to the LXT range which is said to deliver significantly greater impact, power and performance. The new DHR281ZJ is powered by twin 18V Makita Lithium-Ion batteries in series to supply maximum energy to the powerful 36V motor drive system. It is also Makita's first Twin 18V SDS-PLUS rotary hammer drill designed with a brushless motor that will provide massively extended runtime, increased power with reduced maintenance and downtime.
The DHR281ZJ has a no-load speed of up to 980 rpm and will generate 5,000 blows per minute with 2.8 Joules of impact energy to drill a 28mm hole into concrete, 32mm into wood and up to 13mm in steel. This machine will reportedly drive a 54mm TCT core or a 65mm Diamond core through concrete with ease. This model features the 'quick change chuck' which is said to be a massive time-saving and efficient benefit. It allows use of different drill bit types, including SDS-PLUS, hex shank and round shank, which can reportedly be swapped quickly and easily for drilling into wood and steel.
Drilling speed is controlled by the variable speed trigger which is comfortably positioned on the high performance, vibration absorbing, grip handle assembly. This is also Makita's first cordless SDS-PLUS rotary hammer to feature the Anti-Vibration Technology, (AVT), that is said to dramatically cut drilling vibration transmission to ultimately protect the operator. Hammer drilling into concrete with this hammer in all site operations reportedly achieves a vibration rating of 9.5 m/s²; in chiselling function 9.0 m/s² and into metal 2.5 m/s².
Additionally, the DHR281ZJ features the Soft No Load function which effectively reduces the motor speed during idling to suppress the vibration of the machine body and allows the drill bit to bite before automatically increasing the drilling speed.
This impressive machine has a torque limiter which in operation will cut the motor drive should the brill bit snag, so providing further operator protection. Three operating modes include rotary-only, rotary with hammer action support, and a hammer-only mode for chiselling functions. Other features include an electric brake, constant speed control, forward and reverse rotation and an LED job light.
This body-only machine, which is supplied in a Makpac Type 4 case, is compact in size and weighs just 4.0kg without batteries. Efficient dust collection boxes are compatible with the DHR281ZJ and can be purchased from Makita's accessory range.