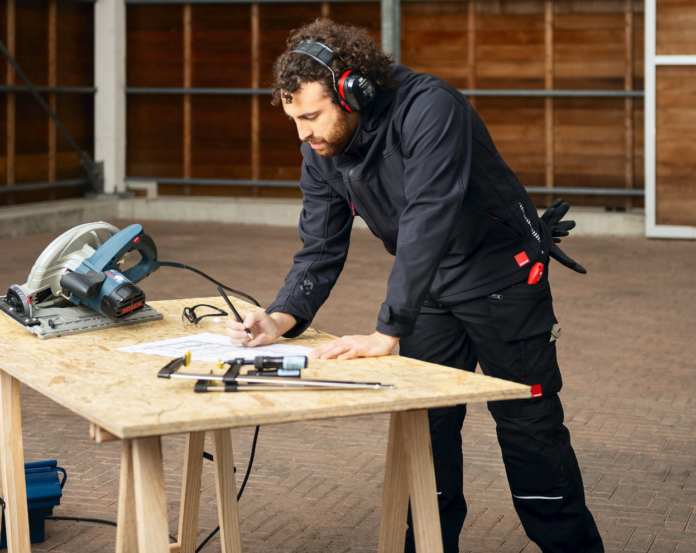 Ballyclare has unveiled a new collection of high-quality general workwear. The 365 range includes a number of garments, which have been designed to meet the needs of workers in the roofing sector.
Included in the 365 range is a variety of functional everyday wear for both men and women, including polo shirts, t-shirts, softshell jackets, hoodies, fleeces and cargo trousers. Each garment is designed to provide outstanding performance in all situations, and they are available in black, navy or charcoal colour combinations.
"We've invested considerable time and energy into developing a range that really does satisfy everyone's needs," said Roger Foster, sales and marketing director at Ballyclare. "For example, the cargo trousers are offered in stretch, lightweight and hardwearing versions, to suit different needs. Like all the 365 garments they have been designed to provide total freedom of movement, which allows the wearer to rely on a practical and comfortable fit, no matter whether they are standing, bending, crawling, stretching or kneeling."
The garments all bear the Ballyclare hallmark of outstanding quality, which stems from the care and attention to detail that have gone into their creation. Ballyclare has also integrated the latest high-performance materials and technology into the 365 range. YKK zips plus CORDURA STRETCH and rip-stop fabrics have been used on various garments, while the Active Vaporise System fabric used on the polo and T-shirts create efficient moisture dispersal and high breathability for maximum comfort.
Outer layer garments provide excellent protection against wind and rain, YKK zips provide outstanding reliability and longevity, while potential stress points in some of the trousers are reinforced with bartacks to give added durability. Various garments are completed with other practical features such as top-loading CORDURA knee pockets and concealed wallet pockets
"A huge amount of work has gone into the creation of the 365 range," added Roger. "We will be adding accessories to the range in the future, such as belts, socks, hats and knee pads, so no matter what the job in hand is or what your individual needs are, you can be sure that our new 365 garments have got you covered."