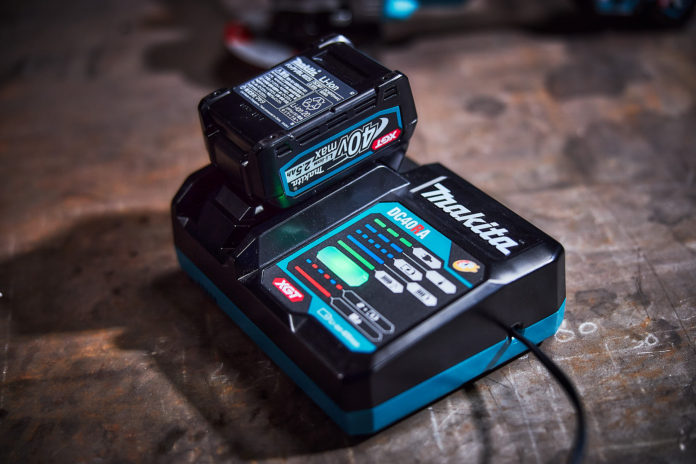 Makita has launched what it claims to be its highest power cordless solutions yet: XGT 40V Max.
The XGT range of machines – including combi drills, grinders, rotary hammers, impact drivers, circular saws and reciprocating saws – offers high output, durability and fast charge times, keeping you working for longer without disruption.
XGT 40V Max is the new standalone cordless battery platform from Makita – with its own range of tools, lithium-ion batteries and chargers. The new 40V Max system will stand side-by-side with Makita's LXT platform to offer a battery solution for all applications.
XGT has been built around three concepts:
1)    High power
With 40V Max power, XGT is the most powerful battery platform in the Makita range. The increased output is ideal for higher demand applications.
The XGT range benefits from a new design – across the machines, the batteries and charging system. Instead of going for a higher voltage battery, the Makita research and development team has developed a system with improved construction and advanced technologies to achieve optimum power and performance.
2)    Tough design
The new XGT batteries have been engineered with durable design features to minimise damage and withstand tough environments. The heavy-duty outer casing and cell holder and shock absorbing housing protect the battery if dropped. Each battery also has an IPX4 rating, which means that it is splash and shower proof, and water ingress is limited.
XGT batteries also include high rigidity rails, that firmly hold the battery to the tool – making them suitable for use with high power products and heavy-duty applications.
3)    Smart technology
To optimise battery performance and charge times, XGT features Makita's smart system technology. This in-built programme allows digital communication between the battery and the charger, as well as the battery and the tool, to provide protection against issues such over discharge and overheating. For example, if the battery has overheated, the charger will cool it down before charging begins. This significantly speeds up the charging process and minimises downtime.
What's in the range
Makita has launched a number of new products for the 40V XGT platform, each suited to high demand applications – including cutting, grinding, drilling and fixing. To maximise on-site efficiency, the tools are designed to offer outstanding performance, ease of use and operator safety. The 40V XGT line-up includes:
TD001G Impact Driver – delivering 220Nm of max torque and 10 tightening modes

HP001G Combi-Hammer Drill – providing 140Nm of max torque and 41 electronical clutch settings

GA004G, GA005G, GA012G and GA013G Angle Grinders – offering the same power as 1,100W corded grinders

HR003G and HR004G SDS-Plus Combination Hammers – which include antivibration technology and benefit from a HEPA filter dust collection system

HS004G Circular Saw – with a no. load speed of 6,000RPM, 480 bevel capacity and AWS wireless connection facility for use with compatible dust extractors

JR001G Reciprocating Saw – achieving 255mm capacity in wood and Ø130mm capacity in pipe

All models are available as body only machines, or complete models with battery, charger and ADP10 Adaptor for charging LXT 18V batteries via the XGT 40V charger.
To improve durability, the new XGT tools also benefit from Makita's brushless motor. As there are no moving parts within the motor causing friction, wear and tear and ongoing maintenance costs are minimised. No friction also means that no energy is lost through heat production, which increases run times and keeps you working for longer – as you do not have to regularly stop to replace or recharge the batteries.
To support the new product range, Makita has also launched a selection of accessories. The 40V batteries can be purchased individually and are available in 2.5Ah and 4.0Ah versions. To minimise operator fatigue – and maximise on-site productivity – the batteries are light weight. For example, the 2.5Ah XGT batteries weigh just 100g more than 18V LXT alternatives.
To charge the batteries, Makita has launched the DC40RA 40V Max fast charger. Due to the smart system, the DC40RA offers optimised charging. For example, a 2.5Ah XGT battery can be charged in just 28 minutes and a 4.0Ah battery in 45 minutes.
For those that are currently using Makita's LXT products, Makita has developed an adaptor that allows you to charge your LXT batteries using the XGT charger. This makes changing between tools effortless. With the adaptor, LXT batteries charge in just 22 minutes (for 3.0Ah LXT batteries) up to 40 minutes (for 6.0Ah LXT batteries).
To launch the new XGT range, Makita UK will also be offering a new redemption deal on selected models, so contractors can claim an extra 40V battery completely free of charge.