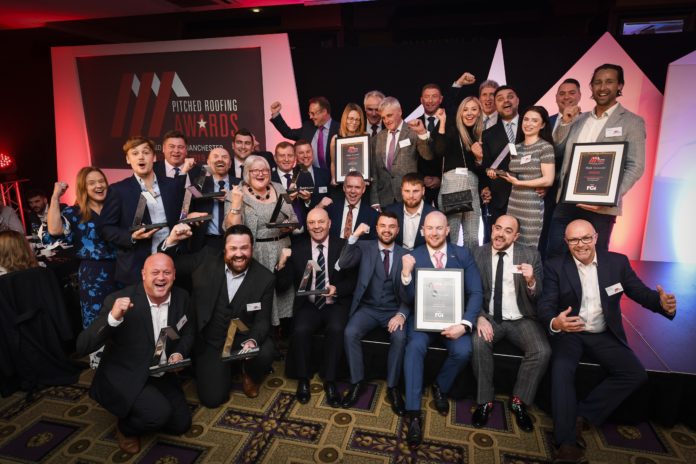 What will be its third year, the Pitched Roofing Awards, which will be taking place on Friday 26 February, 2021, at the iconic Midland Hotel in Manchester, are now OPEN for entries!
Firmly establishing itself as a key event in the industry calendar, the Pitched Roofing Awards, which is brought to you by the publisher of RCI magazine, is back to shine a spotlight on the sector's most outstanding projects and people who operate within it.
With a variety of categories to choose from, recognising both the residential and commercial areas of the pitched roofing market, there is plenty of opportunity for companies and individuals to be acknowledged for their achievements.
From innovative product design and materials used on a project, to the complexity of the installation, roofing contractors, manufacturers, architects and specifiers, will be able to submit an entry for themselves or recognise other contractors and individuals who they believe to be award-worthy.
Winning a Pitched Roofing Award is an exceptional achievement and has proven business benefits for those who enter too. Not only will it enhance the reputation of your company in the eyes of your customers, but it will also raise your company profile and secure a competitive edge over your industry peers. 
Tangible demonstrations of outstanding levels of workmanship, safety and quality, are more important than ever for the advancement of your business. Winning a Pitched Roofing Award provides that!
The winners of next year's awards will be revealed at a luncheon at the Midland Hotel in Manchester on Friday 26 February, 2021, and will provide a fantastic networking opportunity to meet new clients and reaffirm relationships with existing ones.
With many of you working at home because of the coronavirus, why not start thinking about your awards entries now? Entry for the Pitched Roofing Awards is FREE, and you can nominate as many entries as you wish.
If your project has been completed over the last 12 months and you would like to be a part of this fantastic event, then make sure you submit your entry online at www.pitchedroofingawards.co.uk/enter-awards by Friday 11 September, 2020.
The nomination deadline may seem a while away, but why not get your entries in early and make the most of any extra time you may have.
In the meantime, if you would like to know more information about the Pitched Roofing Awards and to book your place at the must attend event, contact Tony Brown at tony.brown@markallengroup.com or call 01732 748059 / 07979 506896.
We hope to see you on Friday 26 February, 2021!