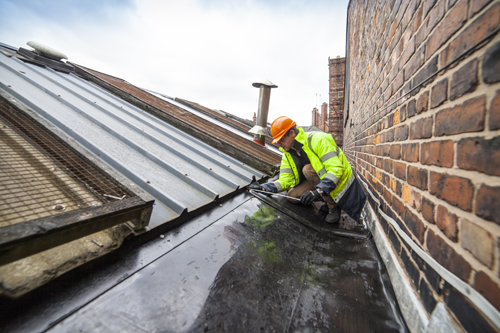 Gutter lining system specialist HD Sharman has formally unveiled a training centre which it says is for the benefit of contractors.
The new Wiltshire-based facility has been built to support contractors with the training they need to become registered Trained Contractors who can meet the demands and requirements of gutter refurbishment in the industrial and commercial sectors.
Sharmans has '12 Golden Rules' for installation and says understanding these rules is critical to support the Plygene Gutterline system guarantee and permanently prevent leaks.
The popularity of training courses at both locations is said to have been 'phenomenal', as contractors commit to becoming part of the Trained Contractor Network.
The training programmes conducted at both Wiltshire and Derbyshire cover numerous aspects of installer training, including:
A full review of system components.
Hands-on practical fitting skills using purpose-built demo rigs.
Hot air welding techniques for bespoke moulded components.
12 Golden Rules for installation.
Standard and bespoke system fitting options.
Site inspection and certification to secure the 25-year guarantee.
Surveying guidelines covering all areas of gutter complexity.
Introduction to online support materials created specifically for contractors.
How to attain Trained Contractor status, enabling installers to offer customers the BBA approved, 25-year system guarantee.
The company says that the responses received from previous programme attendees have been overwhelmingly positive. Sharmans says it has had particular praise for the elements of 'hands-on experience', 'in-depth views of the system' and 'the ability to manufacture bespoke components'.
Commenting on reasons behind the new training centre, Mark de Rozarieux, managing director of Sharmans, said: "For over 30 years we've built our reputation on providing engineered high performance systems, including our market leading Plygene Gutterline system.
"During the last couple of years we've invested heavily in supporting contractors to join our Trained Contractor Network.
'This purpose-built new training centre is the latest offering in a wide range of resources, including online how-to videos and an extensive technical library.
"We are confident that our efforts will result in a larger network of trained installers able to offer their customers the benefits of a system that guarantees leak prevention, with a 25-year guarantee and BBA certification."
Tags