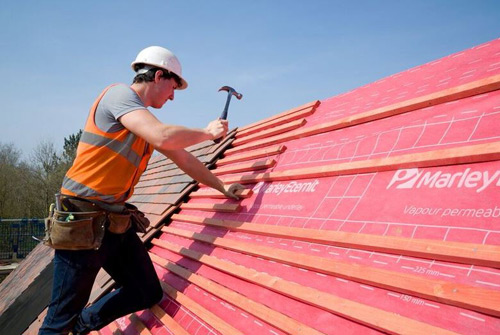 Marley Eternit has issued a sun safety warning for all outdoor construction workers following new research which shows that they have a greater risk of skin cancer than any other occupation.
The latest study, which appeared in the British Journal of Cancer, looked at the risks of skin cancer and outdoor occupations, estimating that there are 48 deaths and 241 cases of melanoma skin cancer each year caused by ultraviolet (UV) rays from the sun at work. Construction workers accounted for a staggering 44% of these deaths.
As part of its annual Safe in the Sun campaign, Marley Eternit is urging all site workers to take action to reduce their skin cancer risk and is giving away free sun cream and UV wristbands, which change colour to show when sun protection is needed.
Katie Prestidge, who is leading the campaign at Marley Eternit, explained: "These latest findings show that there is no room for complacency when it comes to sun safety on site. Most people are careful about applying sun cream when they are abroad on holiday, but wouldn't necessarily think of taking the same precautions when spending seven hours outside in the summer at work yet, it is just as, if not more, dangerous.
"It is thought that working in the sun could lead to one death and around five new cases of melanoma each week. Yet, 90% of all skin cancer deaths are preventable if workers on site take simple, sun safety precautions," concluded Katie
The National Federation of Roofing Contractors (NFRC) is backing Marley Eternit's Safe in the Sun campaign and Gary Walpole, technical and health & safety officer at the NFRC, said: "70% of the workforce haven't had any sort of training on the risks of working in the sun and with skin cancer cases on the increase in the UK, the Safe in the Sun campaign is an excellent way of highlighting the dangers of sun exposure."
Marley Eternit has issued the following Safe in the Sun advice:
Keep a shirt or jacket on and opt for tightly woven fabrics which help to form a barrier to the sun's harmful rays.
Don't leave exposed skin unprotected. Use sunscreen with an SPF of at least 15 and remember to reapply regularly.
Wear a hard hat at all times, preferably with a brim and flap that will cover the ears and the back of the neck.
Drink plenty of water and stay hydrated.
Check your skin regularly for unusual spots and moles, or changes to spots and moles.
Wear a UV wristband, so that even when it is cloudy, you know when you need to use sunscreen and cover up.
Help raise awareness about skin cancer risks in construction:
– Get a free UV wristband and bottle of sun cream – while stocks last – by sending your name and email address to info@marleyeternit.co.uk
– Join the debate on Twitter – follow @MarleyEternit and share the #safeinthesun message
Tags