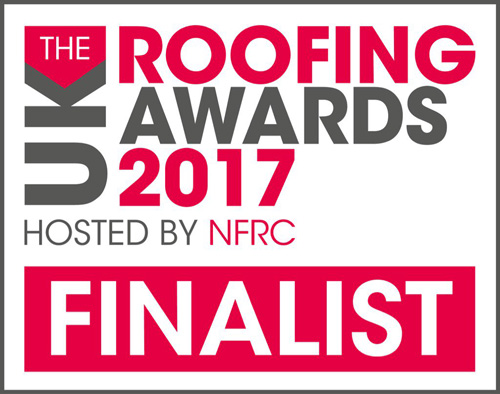 The finalists of the UK Roofing Awards 2017 have been announced.
Considerations that were taken into account in the selection process included the degree of difficulty, workmanship, problem solving, contribution to the built environment, environmental qualities and the aesthetics of the build.
The full list of shortlisted entries are as below and will be promoted over Twitter, Facebook and LinkedIn. Those wishing to share the projects should visit the Awards' Twitter page at @UKRoofingAwards and share using the hashtag #roofingawards.
Green Roofing
– Bridgman & Bridgman, Bransholme Pumping Station
– Axter, Centenary Quay
– Sky Garden with Topek, Macallan Distillery
– ICB (Waterproofing) with NRA Roofing and Flooring Services, Nottingham University
Liquid Applied Roofing and Waterproofing
– Mitie Tilley Roofing, Gatwick Airport
– Skyform (Scotland), New Build, Forbes Place, Aberdeen
– Volkerlaser, Priority Schools
– Makers Construction with Triflex (UK), Royal Arch Apartments
Roof Tiling
– Fildes Roofing, Aldwick Hundred
– Complete Roofing Contractors, Caring Wood
– Rowlands Roofing with Marley Eternitm Quintain House
– Monier Redland with Avonside Southampton Residential Roofing, St Ives House
Single Ply Roofing
– B & D Roofing and Building, AMA Cramond
– Contour Roofing (Essex), Cheltenham House
– Flat Roofing Membranes (FRM), Lymington Shores
– Carlisle Construction Materials with Topek, Macallan Distillery
Reinforced Bitumen Membranes
– Weatherproofing Advisors, Airbus
– M&J Group, Packaging Manufacturer, Wiltshire
– M&J Group, Fleet Bank House
– SPV Group, Four Seasons
Mastic Asphalt / Hot Melt
– Bauder with Accurate Roofing, British Airways i360
– Prater with Radmat Building Products, Fitzroy Place
– Prater  with Radmat Building Products, One Angel Court
– IKO with Infallible Systems, Tower Bridge
Sheeting and Cladding
– M&J Group, Packaging Manufacturer, Yorkshire
– Lakesmere, Leeds Station
– Lakesmere, Greenwich Energy
– Structura UK, West Croydon Bus Station
Hard Metal Roofing
– Richardson Roofing, Comman of the Oceans
– Roles Broderick Roofing, Exeter College
– Roles Broderick Roofing, Hastings Pier
– Richardson Roofing, Royal Mint
Lead Roofing
– Lead-Tech Roofing, Cramond House
– K&M Leadwork, Goring Clock Tower
– Clarke Roofing Southern, South Cliff
– The Roof Group t/a Greenstone Roofing, Stargroves
Roof Slating
– Mac Roofing & Contracting, Bolton Albert Halls
– Redwing Roofing, Chandlers Wharf
– Contour Roofing (Essex), St Joseph's College
– Apex T/A Apex Roofing & Maintenance, Tourist Information Centre, Guernsey
Heritage Roofing
– Fildes Roofing, Sole Street Building
– Martin-Brooks (Roofing Specialists), The Old Poultry Building
– Emerton Roofing (Western), The Boat House
– Claude N Smith, Stamford Railway Station
The UK Roofing Awards have become an industry-wide event that recognise and reward outstanding standards of workmanship and safety within the roofing industry.
The competition, covering the full spectrum of roofing disciplines, runs from October to January every year, and thereafter a selection of projects are short-listed.
The winners will be announced at The UK Roofing Awards Luncheon at the Park Plaza Hotel, Westminster Bridge, in central London on Friday, May 19.
BBC Breakfast presenter Steph McGovern and the voice of the National Lottery Andi Dedicote will host the event, which covers the full spectrum of roofing disciplines.
If you would like to attend you can register online or email the NFRC.
There are still sponsorship opportunities available so if you would like more information contact NFRC Events.
Tags