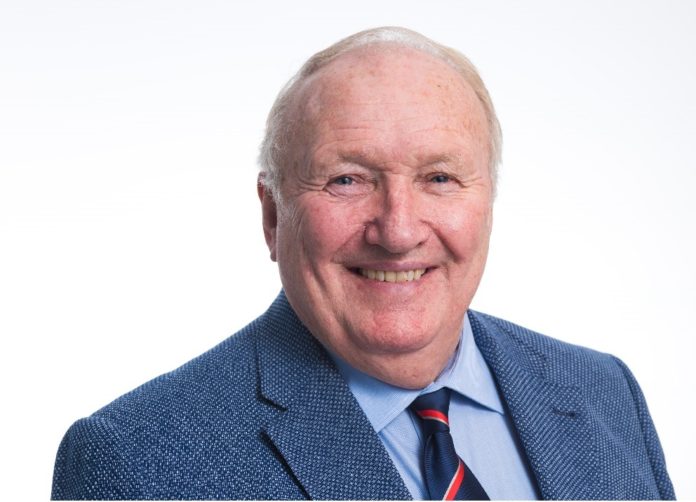 In this article, RCI talks to Gordon Penrose, honorary president of the Institute of Roofing, about being awarded an MBE, the evolution of the Institute, and his passion for increasing training across the roofing sector.
Following a roofing career that spans six decades, Gordon Penrose has kicked off 2021 with a huge achievement. The honorary president of the Institute of Roofing (IoR) was awarded an MBE in the 2021 New Year Honours list in recognition of his services to the roof slating and tiling industry.
Gordon, who is also the managing director of Penrose Roofing in Northern Ireland, has played key roles in various roofing associations. He has been the president of both the National Federation of Roofing Contractors (NFRC) and the International Federation for the Roofing Trade (IFD).
He also served two terms as chairman of the NFRC Northern Ireland region, and chaired the Federation's competitions committee.
Throughout his long career, Gordon's passion for training and creating apprenticeships for young people has shone through. He is the director of the Northern Ireland Roof Training Group, and was instrumental in bringing the IFD congress and world championship roofing competitions to Belfast in 2010, as well as the IoR conference to Belfast in 2012.
A path to professional qualifications
Gordon first became involved in the IoR when it was set up by Cyril Baker and colleagues in 1980. Cyril, who was also a former president of the NFRC and IFD, identified a gap in the industry for professional roofing qualifications.
"I remember the day the IoR was formed more than 40 years ago," recalls Gordon. "At the time, the roofing industry offered training for operatives, but nothing was available for those that wanted to pursue a career in management. The only option was to go through other bodies that provided professional qualifications, but none were based solely on roofing, so the IoR was formed to change that."
The Institute founders put a membership structure in place and set about implementing specific learning for roofing that would enable individuals to achieve industry-recognised professional qualifications.
In 2010, Gordon was appointed as president of the IoR and began to play a more active role in its development. He said: "There have been lots of changes at the IoR, especially over the last 10 years. For example, we've appointed our first full-time chief executive, Stuart Hicks, strengthened our administration department and relaunched our inhouse Associate Course.
"We've also created a more vibrant and modern image that will appeal to the younger generation, which is crucial in terms of helping us to attract new members."
Spreading the word
Increasing membership is one of Gordon's key priorities in line with the Institute's long-term goal to achieve chartered status. A key focus is on improving the benefits for members and ensuring value for money, alongside a drive to promote the IoR's offer across the industry.
Gordon continued: "As an independent organisation that doesn't compete with any other industry groups or trade associations, there is a huge opportunity for us to grow our membership and become chartered.
"We want to get the message out there that we are the only body providing a route to professional qualifications in roofing, and this type of training can benefit the whole industry."
Examples of the courses offered by the IoR include:
Associate Course
Managing Project Risks and Changes
Wellbeing and Resilience at Work
Change Management.
Completion of the Institute's online courses and those available through its member benefits portal count towards Continuing Professional Development.
Joining forces
As the owner of a successful roofing business [Penrose Roofing] and someone who has dedicated his entire career to the sector, Gordon has seen the benefits of training first hand.
"We all need to move with the times, so that we can better respond to our customers' changing needs," he said. "A willingness to train and learn new skills is one of the best ways to achieve that, and will also help to enhance our sector's reputation."
These insights continue to motivate Gordon to drive further change. "There has been a lot of progress in recent years that has helped to counter some of the bad press our industry has received in the past," he explained.
"There is some great work being done by manufacturers, roof training groups, and other trade associations, including the NFRC with the launch of its Competent Person scheme and the RoofCert Roofing Accreditation. But I believe the industry can do more."
He concluded: "As a sector we need a united voice and to work together to champion training and the benefits. Not only will this help both individuals and businesses gain a competitive edge, but it will help to raise standards, improve how our industry is perceived, and benefit all those that work in it."