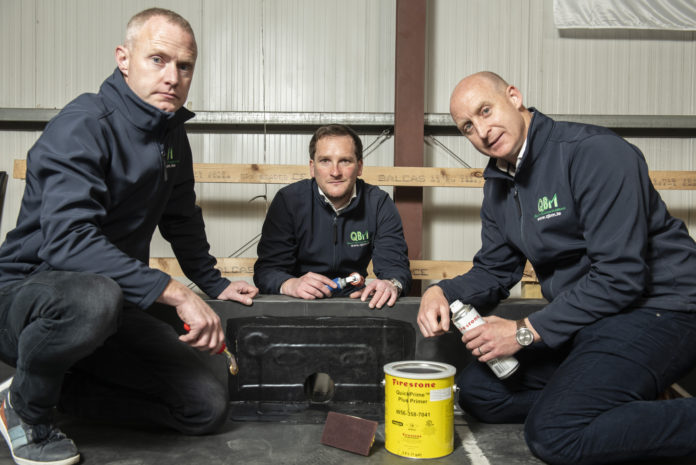 William Burgoyne, head of training and technical sales representative at Quality Building Materials (QBM), has spearheaded the training of over 200 roofing operatives and apprentices across Ireland since 2018 and is now delivering training courses as part of the company's commitment to upskilling future generations in the roofing sector.
QBM are currently expanding their facilities to meet the demand of the industry for training from grassroots level – student apprenticeship training through to roofing contractors – to ensure they have full product knowledge and installation guides for our high-performance waterproofing systems.
The dynamic and versatile roofing contractors have pledged to double last year's roofing training numbers from 70 to over 150, with several courses already fully booked. The roofing suppliers have further cemented their commitment through their partnership with TU Dublin to upskill their new Apprenticeship Programme Students.
William, who built his career alongside his brother John as sub-contractors for the building envelope contractor BRFS, will be delivering bespoke training courses in their facilities in Dublin.
He has also been involved on major projects with Ireland's leading contractors and roofing contractors, working on jobs for companies such as Intel, Fab 24, Microsoft, Google, GlaxoSmithKline, Bristol Myers Squibb and other such big industrial projects.
William's capabilities lay predominately in the practical side of roofing installations, which is what lead him to his current role in QBM.
With his hands-on practical knowledge and experience, William was the ideal fit to head up the training division of QBM. David Butler, managing director of QBM, commented: "As our company was growing, we required more onsite support and thus the knock-on effect was a surge in roofing contractors requiring training on the application of our products.
"William's experience made him the ideal person to head up this role. He has been a pivotal part of our success in training over 200 roofing operatives across Ireland and the UK since 2018".
As head of training and technical sales, William is both in house, supporting sales, processing orders, prefabricating metals and delivering training days alongside providing onsite support to clients undertaking roof inspections and providing specification reports.
Having worked in the industry for over 20 years, William is highly regarded across the industry and is a welcome face on sites across Ireland. The roofing company founded by David, has built their reputation as the leading agents for several high-performance roofing products in Ireland and the UK including, Firestone, FDT, Kalzip, Riwega, Ultralfex, BST and more.