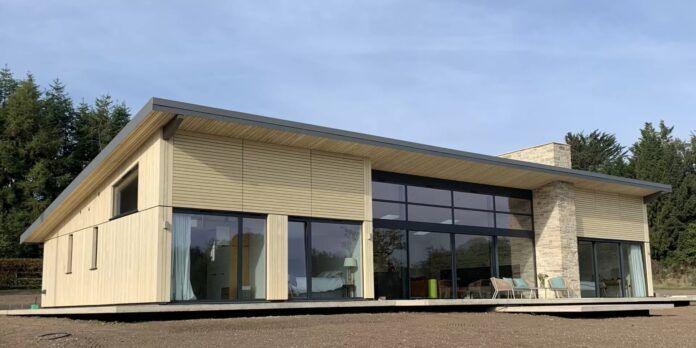 Justin Peckham, head of sales UK and Ireland at Accsys, discusses the many positive credentials of accoya wood and why it's being specified for more cladding and façade projects.
When specifying building materials for cladding, it is important to consider several factors. These generally include functional and structural requirements, maintenance, climate and immediate surroundings, fire performance and surface treatments. Increasingly, sustainability is becoming a crucial part of this check list.
According to the IEA, the buildings and construction sector is estimated to account for nearly 40% of global carbon emissions. With mounting government and consumer pressure for cleaner construction, the industry must find high performance alternatives to carbon intensive materials.
For cladding, the greater use of timber can help reduce reliance on resource depleting materials. Timber offers strong thermal efficiency and acts as a natural carbon sink.
However, not all timber is the same. Fast growing softwoods may be sustainable, but they often lack stability and durability. While hardwood is more durable, it is often sourced unsustainably and can contribute to deforestation. This is where Accoya comes in, offering both sustainability as well as ultra-high performance, meaning that architects and specifiers must no longer choose one feature over the other.
Accsys' product, Accoya, is an ultra-high performance and sustainable modified wood that has the same or even better performance characteristics of heavily resource depleting materials such as UPVC, metal, concrete and Wood Plastic Composite (WPC).
Furthermore, 100% of Accoya is sustainably sourced from FSC certified and well-managed forests and is one of the few building materials to have received Gold Cradle-to-Cradle Certification for its circular economy benefits.
Accoya is also highly durable with resistance to distortion, rot, and insect attack. It is also very stable and performs well even in harsh weather conditions – a factor that is becoming increasingly important as the UK climate changes with hotter and wetter summers. Leading timber research institute, BM Trada, tested Accoya stability against other widely used cladding materials by cyclic exposure of coated boards to wet and ambient conditions.
BM Trada found that Accoya has exceptional stability and using Accoya cladding boards externally could increase from standard 150mm wide profiles to 200mm. This highlights the design flexibility, potential cost savings and crucially superior performance of Accoya compared to western red cedar, larch and thermally modified pine.
Exceptional stability means that tolerances remain tight, and distortion is insignificant, even with wide boards, giving architects and specifiers the ultimate in design flexibility. This stability also makes it a very stable substrate for coatings, though it can be left to weather naturally.
Durable and stable
A great example of Accoya's durability and stability when exposed to the elements is evident in a recent farmhouse project in West Grimstead near Salisbury. Adam Knibb Architects wanted to keep the building in tune with its natural surroundings, so specifying natural and sustainable materials was important.
The Accoya timber cladding used throughout the house has helped achieve this, including the inside ceiling of the property. The homeowner/builder ordered 25mm × 150mm of Accoya from Jewsons via International Timber and then cut the wood into three different widths. A counter batten and insect mesh have been installed behind the Accoya cladding.
Google case study
Possibly one of the most impressive buildings to feature Accoya is the Google HQ building in Kings Cross, which will reach completion in 2024. Accoya had been specified by the architects at Heatherwick Studios and the Bjarke Ingles Group for the large wooden facade of the building. This will be one of the largest glass and timber facades in the world, being 23,000m2 in area. Accoya was chosen due to its sustainability and performance, highlighted by its aforementioned Gold Cradle-to-Cradle Certification, a requirement under Google's building materials and health code. Furthermore, Accoya is certified platinum for Material Health, making it increasingly attractive to the architects of this project.
As more companies and architects move towards sustainable materials in their building and construction codes, the demand for sustainable cladding materials is expected to accelerate. Accsys is already witnessing this and is expanding production to meet demand, with its first USA factory due to open in 2024. The option to choose sustainability without compromising on performance is a compelling proposition.