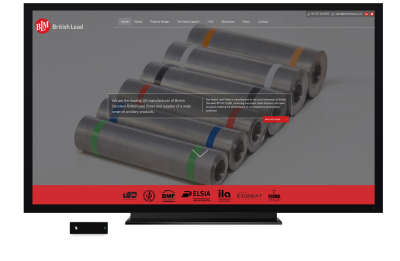 BLM British Lead is inviting visitors to explore its new website that it says has been designed with a fresh new look and user-friendly navigation.
Launched on April 22 and available at www.britishlead.co.uk, the company says the new site allows visitors to access product and technical support information with an option to share content across all major social network platforms.
The new site offers detailed information on Rolled Lead Sheet and a full range of Lead ancillary products, all incorporated to help visitors discover BLM's complete range of lead roofing solutions. The new website also allows users to learn more about BLM's history and 84 years of experience in Lead Sheet manufacturing.
Technical support, fitting guides, H&S tips and project case studies are also available to help visitors discover lead in its wide range of roofing applications.
Furthermore, helping to make BLM's Rolled Lead Sheet easy to find is a short supplier form which can be accessed via the new website. The stockist finder service allows its users to quickly find their nearest British Lead supplier.
Created with the user experience firmly in mind, the new website has been designed using the latest technology so it is compatible with today's browsers and mobile devices.
The site is also integrated with social media platforms, including direct links to BLM's Twitter and LinkedIn pages, where the company announces its latest news alongside the latest roofing and construction industry news.
To keep the website fresh and interesting for its visitors, the company says it plans to add further sections and content including informative and interesting video content and a new product brochure, which will be available to access via the new website in the not too distant future.