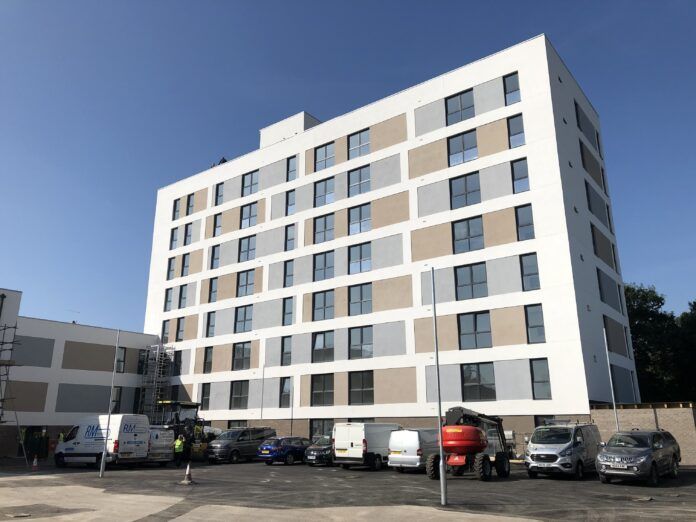 A major refurbishment project in Dorset has seen a landmark building completely transformed with the use of a BBA-certified StoTherm Mineral external wall insulation system designed by Sto.
"Designing the most effective insulation solution for this building required a considerable amount of detailing and development work between ourselves and the other parties involved", explains Sto Head of Sales, Ashley Wainwright.  "The result is extremely impressive, both from a thermal and aesthetic point of view, and it's a great example of how Sto is able to collaborate with architects and clients to provide a bespoke solution for individual project requirements."
Project designers and managers, Elcock Associates undertook the task of overseeing the conversion of the existing 8-storey structure by Glossbrook Builders Ltd, who stripped back to the original concrete frame and then infilling the concrete structure with Lightweight Steel Framing and sheathing board.  The StoTherm Mineral M insulation system was installed to the sheathing boards to create a drained and vented cavity.
This system uses mineral fibre, non-combustible insulation boards to combine excellent thermal performance with unrivalled fire protection. Its efficient single-leaf construction makes it ideal for this type of refurbishment project as it allows the insulation to be added without reducing the existing room spaces inside the building. The dense nature of the system materials also provides a high degree of sound insulation to the Crown Building.
"When the exact nature of the concrete frame was revealed, it presented a number of challenges in terms of designing the insulation system and the thickness of insulation required to meet the target u-value," adds Ashley. "Fortunately, the StoTherm Mineral system is extremely versatile so we had no problems in accommodating various existing features. Much of the insulation was installed using our Sto-Rotofix Plus mechanical fixings which can easily be adjusted to achieve correct alignment of the insulation boards at any time during or after installation and before application of the render, and this proved to be a great benefit."
Sto-Rotofix Plus spiral fixings allow uneven and irregular substrates to be accommodated, enabling seamless rendered facades to be created with ease. These unique, helical spiral fixings mechanically fix the insulation boards to the LSF and can overcome the problems of variable cavity requirements.  As the position of all the fixings can be viewed during installation, Sto-Rotofix makes it far easier to ensure that the right number of fixings have been used so that long-term integrity is assured.
The complex and detailed nature of the Crown Building insulation system design meant that some areas of the building had the insulation installed adhesively using StoLevell Uni. Once again this highlighted the versatile nature of the StoTherm Mineral system, which was installed by Wall Solutions of Southampton.
StoSilco stippled render was applied as the finishing coat for the insulation system.