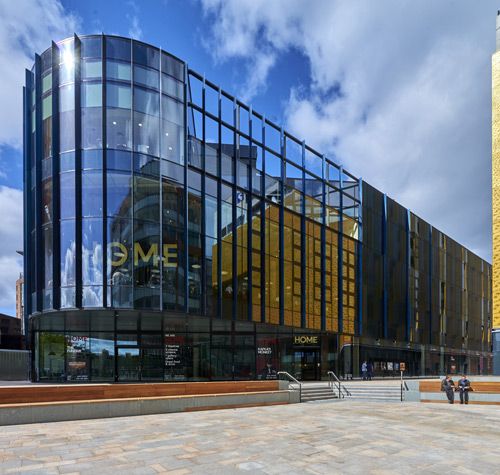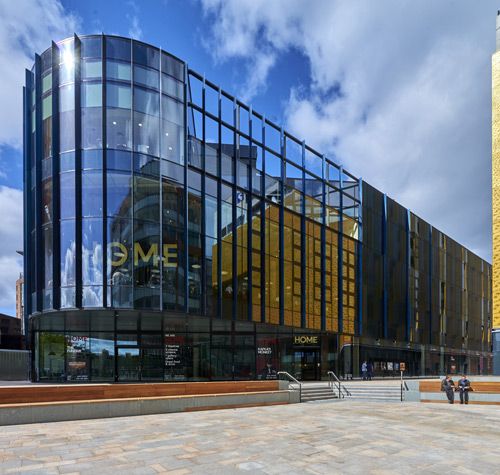 Prater has recently delivered the external cladding and roofing works at independent film hub and visual arts centre Home in First Street, Manchester.
Part-funded by the European Union, the joint venture between Ask and Manchester City Council is a significant mixed-use development scheme that will deliver up to 1m ft² of sustainable, campus style office buildings – providing an ideal centre for business and enterprise.
Prater was appointed by main contractor Wates in a contract worth £2.5 million to deliver the roofing and cladding package for Home. Prater's in-house team contributed towards the design of the glazing and curtain-walling in the prefabrication stages to help ensure the system allowed for building movement and live loads.
Work began on-site in March 2014, with Prater utilising its off-site factory in West Thurrock, Kent, to deliver the roofing, curtain-walling and glazing materials only when the installation teams were ready.
This approach helped Prater overcome heavy congestion on-site, as well as other logistical challenges that were caused by the awkward location of the project. Additionally, to improve manoeuvrability around the structure and ensure better access to Home, Prater used a Merlo P60.24 ROTO crane to transport materials on-site.
Overall, Prater was responsible for installing over 51 units of Reynaers Curtain-Walling, a range of Reynaers CS68 Doors and Hortons 2001 Sliding Door units, as well as 826 Trimo Rainscreen Composite Panels and Radmat's Permaquik hot melt waterproofing system for the roofing works.
Ray Jacques, project manager at Wates said: "Home presented a number of significant challenges that Prater dealt with quickly and expertly. The team worked to a strict programme, provided innovative solutions for transporting materials in severely restrictive spaces, and were invaluable at the prefabrication stages of the project. We partnered with Prater because of the specialist contractor's experience in high value and complex commercial projects, its product knowledge and design expertise."
Ian Mchale, project manager at Prater added: "We were working within a restrictive space alongside a number of other contractors on a building that is next to a railway arch and directly in the middle of Manchester; so logistically Home presented extreme difficulties in terms of accessibility. However by working collaboratively with the project team overall, we were able to deliver a complex project on time."