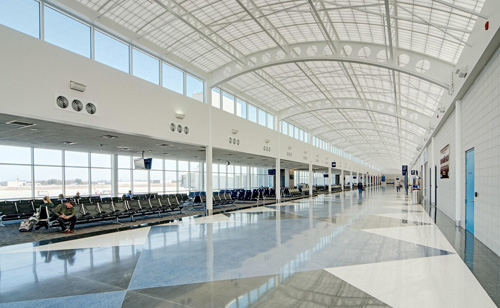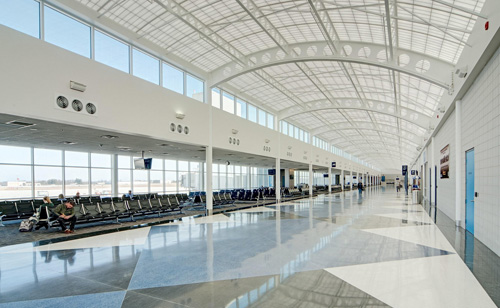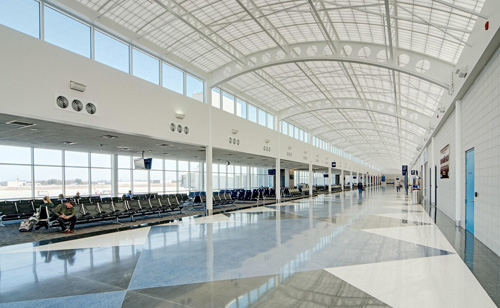 Kalwall translucent cladding has transformed the newly completed 4,200m2 extension at Indiana's South Bend Regional Airport.
Designed by architects Ken Herceg and Associates, the new terminal comprises five gates, restaurants, gift shops and break-out areas all housed under an architecturally exposed, steel-framed barrel vault structure that simulates the structure of an aircraft wing. This is covered with a curved Kalwall Skyroof 10m wide and 180m long.
As passengers enter the new terminal, they are bathed in welcoming and natural daylight with unimpeded views across the runways. Kalwall is said to eliminate shadows and glare and the stark contrasts of light and shade. Even on cloudy days, the interior is reportedly flooded with natural daylight, which means less artificial lighting and, because Kalwall is 'highly insulating', energy costs are reduced. The standard Kalwall 70mm thick panel offers insulation up to 0.28W/m2K – equivalent to a cavity-filled brick wall, whilst still allowing for up to 15% visible light transmittance.
The architects made good use of Kalwall's free daylight modelling service on this project. Daylight modelling is the way to calculate the most effective daylighting for any type of building. It is calculated using five years' worth of real-world weather files at the exact location of the building, together with information on day, time, position and weather patterns. This generates an in-depth report on interior lux levels, a glare pattern analysis and radiance Illuminance.
Kalwall is reportedly frequently specified for this type of prestige project where high-end performance and quality need to be coupled with aesthetics, practicality and a long lifecycle. Kalwall is said to provide a cost-effective solution and offer complete line-of-sight protection which is highly vandal and impact-resistant. It is also said to be ideal for areas considered as a high value target, not only because is it 'factory mutual approved' but also because its unique fabrication means that any blast is mitigated. Unlike glass, splintering and serious injury are reportedly greatly reduced in the event of an explosion as Kalwall is shatterproof.