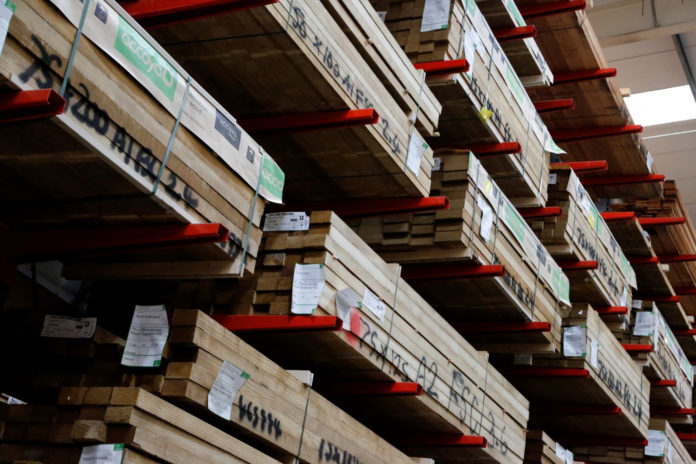 Timber and materials supplier James Latham (Lathams) has released a "carbon calculator" designed to direct customers towards more sustainable products.
Built in partnership with the BioComposites Department at the University of Bangor, it is based upon detailed research into the embodied and biogenic carbon impacts of the products that they supply.
The calculator covers just over 70% of the total Lathams range and focuses on timber products. In time, it will also incorporate composite materials that were out of scope for the first phase.
Ewa Bazydlo, environmental manager at Lathams, said: "We've developed the calculator to help our customers better understand the sustainability of the materials they choose as well as the expected performance levels that they offer." 
The tool calculates environmental impact by looking at the carbon footprint of products, from production through to delivery to Lathams depots. It also looks at how much carbon is stored within the wood's structure, known as biogenic carbon.
Each product then receives a rating from one to four (one being the highest, four being the lowest), based on the confidence that Lathams has in the data used for the calculations. The higher the score, the higher the quality of the data points that have been reviewed, for example, an audited and published Environmental Performance Declaration (EPD).
Lathams will be adding the carbon data to all invoices, delivery notes, and other key documentation to increase visibility around this issue.
It is a move that Campbell Skinner, senior lifecycle assessment analyst at BioComposites Centre, argues is a positive step forward: "Companies have used eco-labels before, but the approach taken by Lathams is really innovative. For the first time that I'm aware, the confidence with which these footprints are presented is rated and placed foremost in the labelling. 
"Latham's customers are being given a clear indication of the transparency with which suppliers are reporting their carbon footprints and this will surely nudge more companies towards independently verified reporting schemes, such as EPDs." 
Ewa added: "We needed a mechanism to rank our products and make it quick and easy for our customers to be able to specify more carbon conscious materials. As a large distributor, we have the relationships with the supply chain, which improves our ability to source and analyse the relevant data and make recommendations.
"We hope that others in the industry follow our lead and improve the transparency around these products, so that we can work together to reduce construction's impact on the environment." 
To complement the calculator and share some of the insights from its research, Lathams will be publishing a "Think You Know Carbon?" guide. It will include an overview of the main issues in sustainability, a glossary of key terminology and steps that architects and specifiers can take to be more sustainable in their designs.
It will also include highlights of some of the most sustainable products in Lathams' stock.
lathamtimber.co.uk/carbon-calculator-  /  www.lathamtimber.co.uk