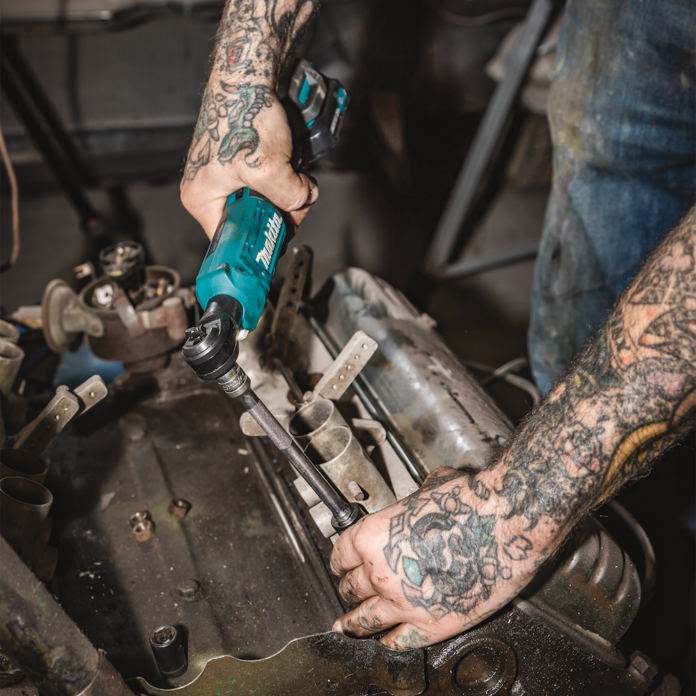 Makita's has released a new cordless ratchet wrench which can be used on a wide range of applications while being ideal for accessing tight spaces, ensuring optimum efficiency and operator productivity.
The WR100DZ utilises Makita's CXT Compact eXtreme Technology (CXT), making this an ultra-compact, lightweight (1.0kg-1.2kg) machine. The LED job light means that it can illuminate the project space and aid working in restricted, dark spaces. The wrench can be used in building, manufacturing, automotive, HVAC and fabrication applications.
It includes a variable speed trigger and trigger lock, preventing it from being accidentally turned on. The locking position also enables operation as a hand ratchet, when the motor is off.
The WR100DZ comes with two adaptors (6.35mm square drive and 9.5mm square drive), that can be removed to convert it into a pass-through ratchet wrench. This is ideal for tightening 13mm nuts onto long threaded bolts. The WR100DZ also includes a reversing lever, ensuring the tool can rotate both ways.
The WR100DZ is a 12Vmax machine with a no-load speed of 0-800rpm and maximum fastening torque of 47.5Nm. The tool produces vibration of 2.5m/s2 and sound pressure level of 74 dB(A).