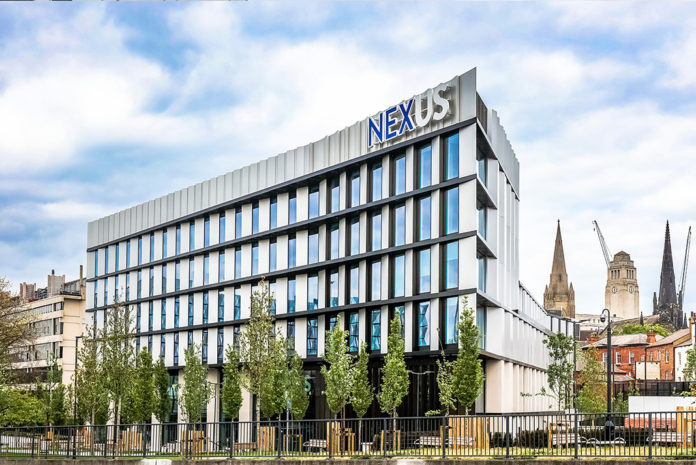 The University of Leeds new Nexus Innovation and Enterprise centre is a stunning example of how a building's modern exterior envelope can sit harmoniously within an existing campus setting.
Architectural fabrication specialist Metalline worked closely with Associated Architects, Glassolutions and United Anodisers to produce a range of bespoke rainscreen panels in anodised silver and a striking two-tone striped anodised bronze to enhance the brick and glazed façade of the new centre.
The two-tone bronze effect is a first for the UK and one that Metalline rigourously tested and trialled in conjunction with partnering anodisers.
Over 3,000m2 of aluminium rainscreen panels were supplied in varying lengths up to 4,000mm length x 2,000mm wide. The panels were then individually referenced and then installed together to achieve the desired effect.
In addition, Metalline also supplied fascias and soffits together with its range of perforated rainscreen panels, finished in a black polyester powder coating that added a further dimension to the finish of the building's façade.
Its latest state of the art manufacturing equipment and extended production capability allows a highly skilled workforce to deliver precision engineered metalwork on time and to exact specification. This expertise coupled with an ability to react to even the most challenging of design criteria, has led to Metalline's architectural fabrications being specified by architects and contractors on a wide range of prestigious projects throughout the United Kingdom. Their relationship with specialist suppliers within the coatings and finishes sector has enabled us to develop unique and exceptional finishes to meet almost any design criteria. This coupled with our new 3D design offering is bringing a whole new dimension to what designers and architects can achieve.