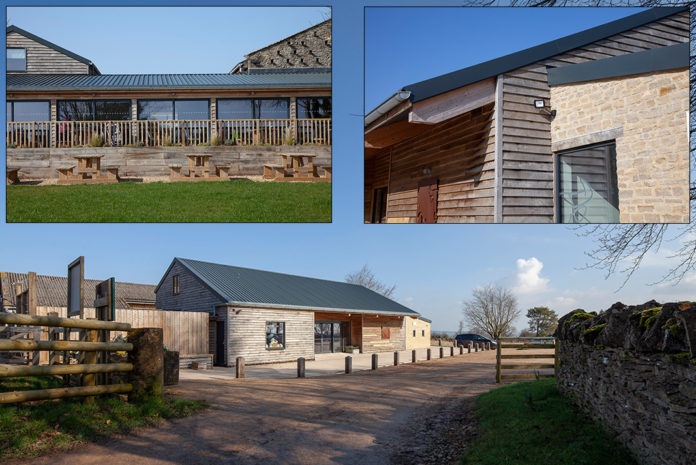 Cotswold Farm Park has almost tripled the size of its visitor facilities with a new, purpose-built centre which combines the aesthetic appeal of traditional farm building with the outstanding envelope performance of the Kingspan TEK Building System of Structural Insulated Panels (SIPs).
First opened in 1971, the park is dedicated to protecting some of the rarest and most endangered breeds of farm animal. To upgrade its existing facilities, the owners chose to construct a new visitor centre on the site of a former livestock barn. The new building has been dubbed 'The Ox Shed', in honour of its predecessor, and includes a 130-seat restaurant with a commercial kitchen, a bar, an extensive retail area, and new toilets with baby changing facilities.
Tyack Architects' design incorporates traditional facing materials such as oak featheredge boarding, a trapezoidal tin roof and Cotswold stone. However, the project team needed a structural solution which would allow all building work to be completed over a five-month period, in time for the busy spring season. Additionally, the owners were keen for the new facility to be as energy efficient as possible, both to reduce carbon emissions and overall running costs. To achieve this, the Kingspan TEK Building System was designed and installed by Kingspan TEK delivery partner, Glosford SIPs, forming the structural shell of the building.
Kingspan TEK Building System features a high performance, rigid insulation core sandwiched between two layers of OSB/3. The 142mm panels chosen for the Ox Shed can achieve U-values of 0.20 W/m2K or better without the need for additional insulation. In addition, their unique jointing system and OSB/3 facing ensured a highly airtight building with excellent insulation continuity, limiting repeating thermal bridges.
Glosford SIPs worked with the project team to develop the initial plans into the design for the Kingspan TEK Building System. Once these were agreed, the panels were precision cut to the required dimensions, including openings for all the windows and doors. The pre-cut panels were then delivered to site to a carefully co-ordinated schedule.
The lightweight design and simple jointing of the Kingspan TEK Building System allowed the shell to be constructed in just two weeks without the need for significant on-site adjustments. Once a breather membrane was applied to the face of the panels, the shell could be made weathertight. This allowed internal fitout work to commence, whilst the oak cladding was being applied, supporting a much faster and cleaner build programme than what would have been possible with a masonry construction.