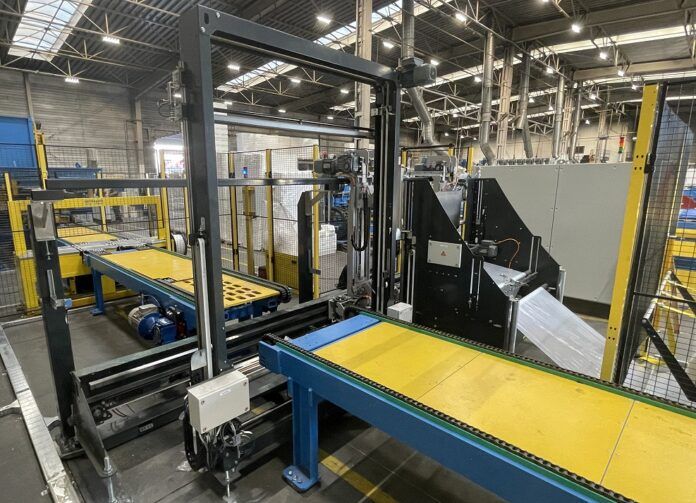 Pruszyński Sp. z o.o, a major Polish manufacturer of steel roofing and facades, has installed a RoRo StretchPack® packaging line at their facility near Warsaw in Poland. The new line is for packaging pallets with stacks of heavy steel plates for roofing.
The pallets, including the stacked plates, are in dimensions of; width 1250 mm, length 3000 mm and height 220 mm. Earlier, the process was manual, but Pruszyński wanted to automate the packaging line and has chosen a RoRo StretchPack® solution developed by Tentoma.
The solution includes an infeed conveyor with a moveable tongue which carries the heavy pallet through the RoRo StretchPack® machine. Pruszyński now benefits from a fully automated horizontal packaging process performing a 6-sided sealed packaging protecting their products against external elements.
Horizontal packaging using stretch hood film
RoRo StretchPack® is sealed horizontal packaging using a tubular stretch film. It is based on the well-proven stretch hood packaging technology for vertical hooding of e.g., pallets.
Tentoma A/S has refined the technology for horizontal packaging, which enable 100% sealed packaging in just one operation. RoRo StretchPack® is perfect for 100% waterproof packaging of rolls, building materials and similar larger products.
The stretch film prevents excessive film use, and when customers shift to RoRo StretchPack®, they typically see reductions in film consumption between 25-60% compared to conventional packaging methods.
Watch a video of the packaging operation at https://vimeo.com/753868490.