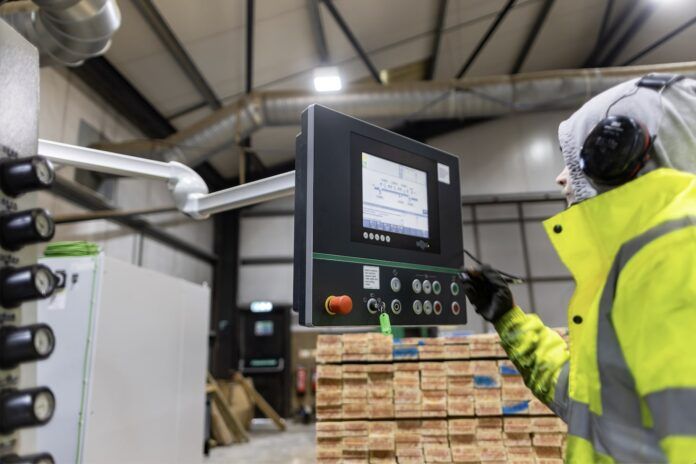 Leading timber supplier Premier Forest Products has made a major investment in machinery to increase production and extend its product range for customers.
Premier Forest Products has invested over £1 million in equipment across the business, including its Duchy Timber and Merlwood Timber branches. The state-of-the-art, market leading machinery, which was installed earlier this year, has already doubled the production capacity at the company's sites in Cornwall and Pembrokeshire.
The new machinery, supplied by global specialists Weinig, includes a Powermat 1500 moulding machine which can cut widths up to 300mm, and a Powermat 700 moulding machine.
The machines are entirely flexible and can be used to make most timber mouldings including, cladding profiles, skirtings, architraves, door frames, stair components, and door liners in both hardwood and soft wood.
The company has purchased the Rondamat 960 grinder/profiling machine which makes templates for profiles so they can create bespoke profiles for customers. Once the template is made, it can be used repeatedly to make precisely the same profile which is ideal for continuity in large projects, where the same product is to be supplied frequently over time.
Premier Forest has also invested in an Opticontrol measuring stand which is used to accurately measure the tool cutters and a Unicut P3 crosscut saw which has more than doubled Premier's capacity to accurately crosscut timbers to length.
Terry Edgell, Co-founder & CEO of Premier Forest Products, said: "Recent investment in additional state-of-the-art milling machinery is enabling Premier to increase productivity and improve efficiency at two of our key manufacturing sites.
"Our in-house manufacturing facilities mean that we have complete quality control and the capacity to 'turn up' production to meet volume orders for our customers. Together with our nationwide-wide distribution network, we can quickly turn-around orders and deliver in volume, across the UK.
"We're now in the position that we can work with customers to support anything from bespoke, specialist renovation jobs to full-scale construction projects such as hotels, schools, apartments and housing sites. Our timber is sourced from responsibly managed forests, so we meet the stringent environmental requirements of modern building projects."
Premier Forest Products is engaged in the importation, processing, merchanting and wholesale distribution of timber and timber products from multiple sites across the UK.