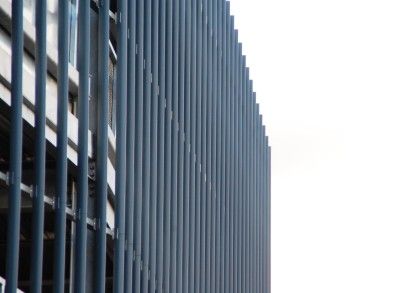 Midlands-based firm Powdertech (Corby) says that it has been very pleased to work on the £1bn regeneration of Longbridge, the former site of many innovators in motor engineering.
A 14,000m² Marks & Spencer is the flagship store, with a 500-space multi-storey car park. Powdertech (Corby) powder-coated over 5000m² of perforated screen panels and 150 / 400mm aerofoil blades with high performance Syntha Pulvin powder.
Large 'blades' form a distinctive feature across the M&S store front and perforated aluminium panels and smaller blades surround the six-storey car park to the rear.
Careful handling and packaging of the relatively flimsy 3.0m by 1.3m panels was necessary to avoid bending or dents. Powdertech liaised with the other supply-chain contractors to "pull" the fabricated panels through the system, thus reducing overall lead-times.
Richard Besant, sales and marketing director for Powdertech, said: "We wanted to take full responsibility for our part of this project, overseeing collection and delivery as well as powder coating."
RAL7048 pearl grey (left) for the storefront blades and RAL 7012 basalt grey (right) was used for the car park