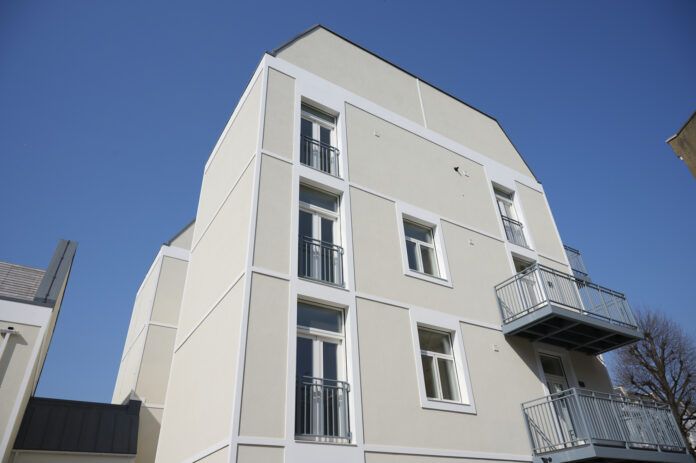 Sto's specialist façade solutions have ensured a new affordable housing development seamlessly integrates with its surroundings.
Located in West Kensington on the Springvale Estate, 'Tavener Court' comprises eight one and two-bedroom flats as well as two three-bedroom houses, spread across three floors.
Externally, the scheme features the StoTherm Mineral external wall insulation system, which has been finished with StoSilco silicone render in a pale shade of yellow, and a variety of StoDeco three-dimensional profiles to add architectural detailing across the building.
With 1,000 colours to choose from in the StoColor system, the Sto render offered extensive design flexibility for architecture and design company, NORR. It has also provided a high level of water repellence and water vapour permeability, making the façade resistant to the build-up of dirt and reducing the growth of algae and fungus.
The StoDeco profiles were specified to create window surrounds in pure white, corner detailing around the roof area, and a decorative band course across the façade. Manufactured from Verolith, which comprises 90 per cent perlite, the StoDeco profiles are highly resistant to weather and other environmental factors. Light in weight and easy to work with on site, the products are quick to install and form a durable bond with the render.
"One of the primary design aims was to ensure Tavener Court complemented the street scene in Hammersmith & Fulham while providing a clean, modern appearance," explained Duncan Ray, Senior Design Associate at NORR UK. "Many of the surrounding properties feature white window frames and door surrounds as well as render façade finishes. Thanks to the Sto render and StoDeco profiles we were able to emulate these design principles creating a highly aesthetic building."
The StoTherm Mineral external wall insulation system provides unrivalled fire protection and thermal efficiency. Featuring mineral fibre insulation boards, which were fixed to the substrate using Sto-Rotofix Plus, Sto's unique spiral designed fixings, allowed the insulation boards to be adjusted quickly and easily, ensuring a level surface prior to installing the external render and StoDeco profiles.   All Sto's products were installed by external façade specialists, Drens Ltd.
The new homes were built by Ark Build PLC on behalf of Hammersmith & Fulham Council. Tenancies were secured through the council's housing register, enabling residents to stay in the properties for the long term.
Tavener Court forms part of a wider council scheme to deliver another 3,000 new homes over the next eight years, 60% of which will be genuinely affordable.