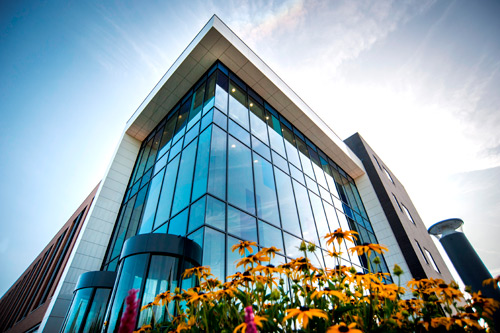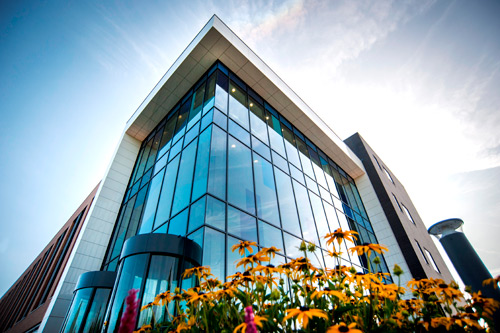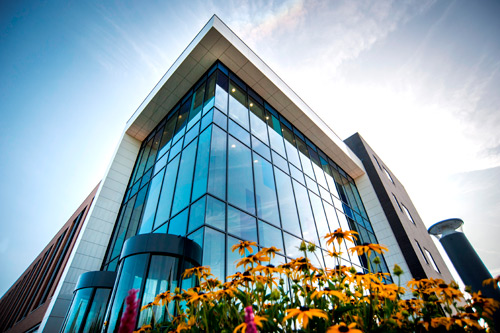 Ventilated cladding specialist Shackerley has helped to create a dramatic feature entrance for the next generation of scientists at Loughborough University's new £17 million STEMLab project.
Developed as part of a major investment in a 'Student Learning Zone' on the west side of Loughborough University's campus, the STEMLab scheme has been constructed by main contractor Henry Brothers, and will provide 3,500m² of contemporary, co-located and shared science and engineering laboratories, design studios and workshops.
Approached from a hard landscaped feature entrance, the three-storey building features a glazed front section and a double height reception area with a mezzanine café and a scale model aeroplane to highlight the aeronautical engineering capabilities.
Shackerley's SureClad ceramic granite ventilated cladding system has been used to frame this section of the building. Architect CPMG selected the system in polished, highly reflective 'Arctic White' to contrast with the glazed orthogonal shape that forms the front elevations and creates visual synergy with the paved external approach.
Dawn Briggs from CPMG, explained: "The ethos of the building's design is to communicate that the STEMLab is accessible and exciting so the front elevation at the entrance creates a forward-focused arrow shape."
The SureClad system was delivered to site fully prefabricated by Shackerley at its ISO 9001 quality controlled factory and was ready to install by cladding specialist, HKL. Façade panels were supplied in the popular and economical 1200x600mm format with fixing straps securely anchored to the rear for installation using Shackerley's Queen's Award winning SureClad Access System.