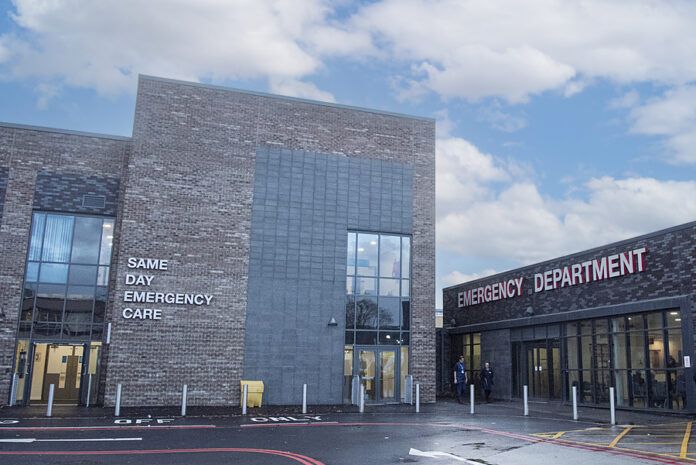 Euroform's Versaroc® MPA1 sheathing board has provided a 'robust' building envelope for the new Same Day Emergency Care (SDEC) centre at the Countess of Chester Hospital.
The SDEC centre is a part single storey and part two storey building, which has been linked to the existing A&E building.  The new extension includes reception and waiting space, a GP assessment unit, Same Day Emergency Care clinic rooms, space for dedicated diagnostics, a small dispensing pharmacy and other facilities.
1,200m² of Euroform's Versaroc® MPA1 fibre cement sheathing board was applied to the light gauge steel frame building structure by IMS Facades.
Developed for exterior sheathing of SFS frames, Versaroc® MPA1 is highly non-combustible and durable. It achieves EuroClass A1 Reaction to Fire according to EN 13501-1:2018 and has third party Agrément from Kiwa BDA for steel frame sheathing application – certificate number BAW-20-154-P-A-UK.
Highly moisture tolerant, Versaroc® MPA1 can be left exposed to the weather during construction.  It has achieved category A performance to EN 12467:2012 + A2:2018, which is the highest level of performance that fibre cement sheets can achieve in terms of resistance to the destructive effects of varying climatic conditions.
Commenting on the use of Versaroc® MPA1, Simon Marriott, Project Manager, IMS Facades Ltd, said, "The overall finish of the product was good and provides a very robust envelope to the building."
Although at this SDEC centre brick coursework was applied over Versaroc® MPA1, the sheathing board is suitable for a wide range of systems such as approved ETICS, terracotta cladding and high performance cladding.
The Countess of Chester Hospital SDEC centre was designed by AHR Architects Ltd, Shrewsbury.  The main contractor was Galliford Try and the scheme involved RGB Facades and IMS Facades.  Euroform provided technical support regarding the attributes of Versaroc® MPA1 and installation guidance.
Versaroc® MPA1 is available as 9, 12 or 15mm standard sheet sizes of 2400 or 3000 x 1200mm with more bespoke sizes made available to suit the system requirements through Euroform's cut to order service.
Euroform has been developing, fabricating and supplying materials for the construction industry since 1995 specialising in ensuring fire and thermal compliance across its product range.  Euroform is part of Performance Technology Group, an SIG Trading Ltd group of companies supporting the construction industry to meet acoustic, fire, thermal and vibration challenges.
IMS Facades is a specialist external and internal contractor, focusing on complete through wall construction, from the external cladding skin, SFS system to the internal drylining.