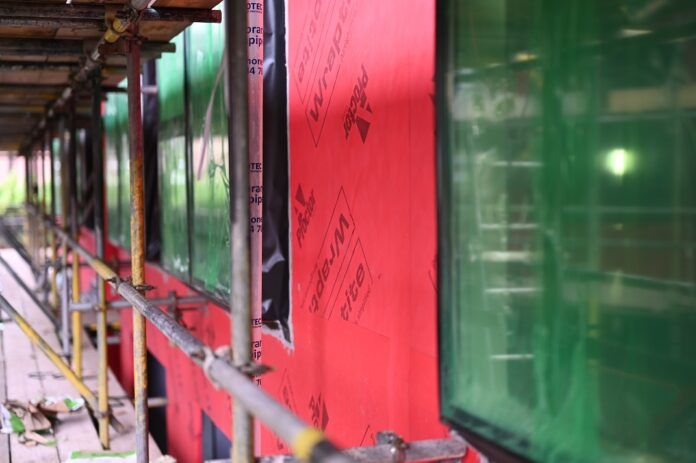 The Wraptite external air barrier system from the A. Proctor Group has enhanced the performance of a considerate inner city development of retirement living apartments working in partnership with Hadley Group.
The Lichfield's Bonds retirement living development for Pegasus Life consists of three apartment blocks in the heart of the cathedral city. Constructing on a compact site and nestled against local residents and businesses required a sensitive building approach and a considerate program design. An essential requirement for the client was ensuring that traffic was not disrupted and that the project positively contributed to the city.
The Wraptite external air barrier system from A. Proctor Group was installed in combination with the innovative, unique pre-panelised and fully load-bearing Hadley Frame offsite system, which is ideal for developments of low to medium rise structures.
The Hadley Frame system is designed to be installed off a structural concrete slab or transfer structure and provides a high strength-to-weight ratio and relative weight saving. In some cases, savings of 20-25% in weight can be achieved compared to traditional methods of construction.
Adam Salt, business development manager of the A. Proctor Group, explained: "one of the key benefits of installing the Wraptite air barrier system in the factory for the Hadley Group was minimal on-site disruption. Minimising disruption on site provides significant benefits to local residents, particularly in the case of compact inner city sites like the one at Lichfield."
"The Wraptite air barrier system offers a safer and simplified membrane system. It provides a fully selfadhered vapour permeable air barrier certified by the BBA and combines the critical properties of vapour permeability and airtightness in one self adhering membrane. The self-adhesive membrane is easily applied in the factory, bonded externally to the substrate, positioning the airtightness line away from the internal service penetrations ensuring a superior performance on the project."