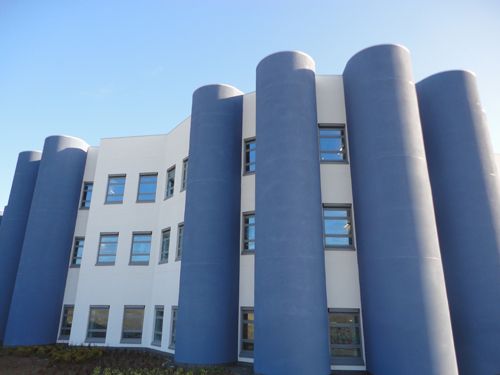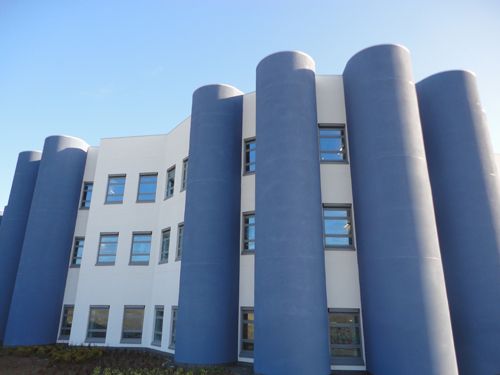 The external wall insulation (EWI) sector has rounded off a tough year with a night of celebration at the Insulated Render and Cladding Association's (INCA) 2015 Awards ceremony.
The event recognises outstanding work carried out on EWI projects by INCA members over the last year and awards companies across both new build and refurbishment projects. A record 330 guests attended the black tie awards dinner at London's 8 Northumberland Avenue to see television comedian Hal Cruttenden hand out nine awards to the best of the EWI sector.
The big winners on the night were Dryvit UK and contractor Horbury Building Systems, who won both Non-Residential New Build and the prestigious Project of the Year awards for Northumbria Specialist Emergency Care Hospital. Described on the night by INCA chairman Pádraig Barry as an "innovative and exciting new build project", the judging panel said the project's ambitious and striking finish helped to set it apart from the other worthy winners.
The other projects to win on the night were:
Domestic New Build
Alsecco and PRS Group for Brookway & Bennett Square
Domestic Refurbishment (High Rise)
Structherm and Volkerlaser for Worcester High Rise
Domestic Refurbishment (Low Rise of 5 houses or fewer)
SPSenvirowall and SERS Energy Solutions for Cefn Road
Domestic Refurbishment – (Low Rise of 6 houses or more)
Structherm and Westdale Services for the Craghead regeneration project
As well as rewarding project successes, the INCA awards also seek to recognise the efforts of companies or individuals working within the EWI sector to improve the working conditions and the industry as a whole. To this end, Kilwaughter Chemical Company won the Sustainability award for its work to restore the Antrim Plateau area surrounding its headquarters, while SPSenvirowall received the Training award for its 'Trade That Works' initiative which supports young people not in education, employment or training.
SPSenvirowall rounded off a successful night with the first ever award for Outstanding Achievement, which went to the company's technical and marketing director, Mitch Gee. Receiving a standing ovation from guests when he collected the award, Mr. Gee was described as "a pioneer of energy efficiency for almost 25 years" and was rewarded for his commitment to INCA, combined with his passion for quality and innovation in the EWI industry.
Pádraig Barry, who spoke on the night of the challenges facing the EWI sector from Government policy changes, said afterwards: "It is an honour to be the chairman of INCA at such a critical time for the EWI industry and, given the ongoing uncertainty within the industry, I am particularly impressed by the achievements of INCA members in this year's INCA Awards. This year we have showcased not only life-changing refurbishment projects and innovation and design in the new build sector but also the people that make the EWI industry a specialist sector to be proud of. "