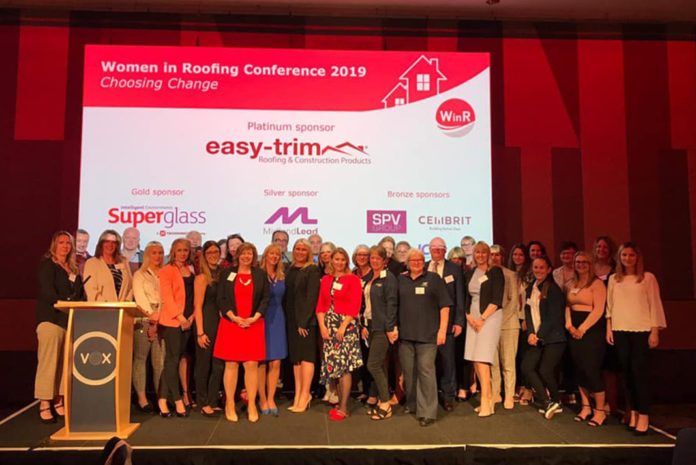 The fourth annual Women in Roofing Conference was a resounding success with over 80 like-minded delegates come together at The Vox Conference Centre, Birmingham to consider the Agenda of Choosing Change.
In view of the ever-changing world that we live in and learning from feedback from previous conferences, the format of this year's conference was changed significantly to ensure more CPD, more networking and more debate.
One of the first steps to choosing change is to recognise that there is a problem or issue of concern, then to define the problem and recognise that changes need to be made to rectify.
This year's Women in Roofing Conference recognised issues, proposed changes and sought solutions.
Delegate's valuable time was filled with more learning to ensure attendees took away a number of tools and ideas they could take back to their business and personal lives and everyone's excellent input during the day was highly valued.
The event was incredibly empowering and inspiration and proved to be an excellent platform for delegates to enable positive change in the industry.
This year's conference was compered by the incredible Mr Kevin Parr who oversaw the day, pulling together key points and facilitating structured debate and ideas to be shared.
Kevin is amongst the top speakers recommended by 'Best 100 Companies' and has a wealth of experience in compering events and also in the construction industry. He did a fantastic job of facilitating debate to focus on the changes delegates want to see in the roofing industry offering his own personal ideas and stories and ensuring attendees really considered how these changes could be made.
The event was opened by our Keynote Speaker, Mr Kevin M Taylor. Kevin is the president elect for the NFRC and has successfully managed a roofing company for over 20 years. He is passionate about safety and professionalism in the roofing industry and gave an entertaining and enjoyable speech about Embracing change, and an overview of his five key areas where he sees change needs to be enacted in the industry.
After lunch delegates were invited to attend three out of six CPD sessions covering finance, attitude, health, R&D, specification and management.
During the changing attitudes section of the conference there was a lively debate on improving industry image and making roofing more attractive to a wider range of people.
The group proposed more promotions TO underrepresented groups, rather than promotions OF individuals already in the industry – getting the message out loud and clear that roofing in its many guises and various job roles has opportunities to suit most people.
The group also proposed that more companies be encouraged to adopt flexible working practices.
It was also agreed that a clearer career progression pathway was included in promotions to young people to stress the various opportunities available and routes to businesses success.
One of the successes following from last year's events was the development of a Roofing Ambassador network, and there was an opportunity to see how some of these superstars have progressed in their own careers, and developed to spread the word to others.
The changing finances session encouraged attendees to never underestimate the value of mentors and support and build partnerships on values and ensure you attract like-minded people.
The changing specifications session created a lovely debate and summarised that specifications should be clear, concise and unambiguous and that there needs to be more responsibility and accountability and this needs to be shared between relevant parties.
The Changing Lives session offered a toolkit for all delegates to use in regards to mental health. All attendees were encouraged to look into appointing mental health first aiders within their businesses and set targets for the a mount of people qualified to increase for next year.
The Making changes – Funding Research session gave attendees the tools and opportunity to look within their businesses to see if there are any areas where R & D has been undertaken.
The Change Management session gave attends time to reflect on themselves, their goals and attitudes and set targets and objectives moving forward on how they could make small changes to add value to their lives.
The sessions were then reviewed by Kevin Parr and three key action points were taken from each session.
Each attendee was encouraged to make some small changes and all together then bigger results start to become reality.
We all need to make smallish changes to produce a big result – What change can you make today?
The delegates reconvened in the evening for the drinks reception, dinner and the awards ceremony.
This year saw the introduction of three new awards as we as the two awards introduced at last year's conference.
The first award presented by Denise Cherry was the Proud to Promote Awards sponsored by YIRTG.
This award recognises commitment to promoting the roofing industry as a career of choice for young people.
The winner was Jennifer Kinsella of SPV Group.
The second awards presented by Kate Whatley on behalf of the Sponsors Academy Consultancy and design was the WinR Diversity Champion Award. This award is intended to recognise commitment to promoting diversity in roofing. The winner was Lauren Pollitt of Wythenshawe Housing Group.
The third award was the WinR Inspiration Award. This award celebrates someone who has gone above and beyond their role, to do or create something of real benefit to our industry and was this award was sponsored by Touchpoint and presented by Nigel Brittle. The winner was Lesley Hughes of the WNTG.
The penultimate Award was The Maureen Johnson Rising Star Award. This Award is In memory of one of WinR's great supporters, business owner and Director of the Institute of Roofing Maureen Johnson, this award celebrates someone relatively new to the industry who is without doubt, destined for great things.
This award was sponsored by Working Transitions and presented by Claire Cowan.
The winner was Danielle Miller who unfortunately wasn't able to collect her award on the evening as she was on holiday in Turley but will collect this upon her return.
The final award was the Elianna Coutler Business Excellence Award. This award also recognises a great lady, recognised in her own specialist discipline of mastic asphalt and beyond for her contribution to the industry and her dedication to promoting opportunities for other women.
This award was sponsored by Sussex Asphalte and presented by last year's award winner Lesley Cage of Karl Austerfield Roofing. The winner was Roz Richardson of Proteus Waterproofing.
The evening was then brought to a close with an uplifting and inspiring speech from Mr Ray Horwood, former CEO of the NFRC and currently non-executive director at Langley Waterproofing Systems.
He discussed changed he has seen during his time in the industry and looked forward to future changes and exciting developments in the industry.
It was an incredibly enjoyable and inspirational evening celebrating success, best practice and all the wonderful aspects of our industry.
Being a non for profit organisation, the event would not have been possible without the support of our valued sponsors and attendees.
Women in Roofing is a small organisation, run without public funding, by volunteers, set up to promote opportunities for all in the roofing industry to raise awareness of a wide range of careers across contracting, manufacturing and supply.
Thank you to our sponsors Easy Trim, Superglass, A Technicol Company, Midland Lead, SPV Group, Cembrit and ICB Waterproofing as well as Varsity Building products for hosting the drinks reception.
Thank you also to our award sponsors Touchpoint, Working Transitions, Academy Consultancy and Design, Sussex Asphalte and YIRTG.
Thank you also to our excellent speakers Maria Coulter – Construction Coach, Josh Byre of FGF, Emma Craig West of Haines Watts, Lesley Hughes of WNTG, Jo Bowditch of Jo Bowditch training and Denise Cherry of YIRTG.
Five years ago, when the first Women in Roofing events took place, there were relatively few women in truly prominent industry positions, and we are absolutely delighted to see on a pretty regular basis that another woman is recognised for her efforts and taking up a senior position.
The day concluded that we all need to make smallish changes to produce a big result – what change can you make today?
Three key points for each session
Changing Attitudes
Need to challenge the assumptions- male dominated and unskilled industry with no route for progression and not well paid. We must go into schools more to change attitudes
We need to promote to women and also the parents of those interested in construction
We need to look at adopting family friendly policies
Changing Finances- From 4 P's to one M with Maria Willis
Never underestimate the value of mentors and support
People are the foundation of your business
You need to right people on the bus to ensure the right culture
Build partnerships on values and ensure you attract likeminded people
Changing Specifications – with Josh Byrne
The industry needs clearer regulations
There needs to be more responsibility and accountability and this needs to be shared between relevant parties
Specifications should be clear, concise and unambiguous
Changing Lives with Lesley Hughes
Visit www.buildingmentalhealth.net for tool box talks that can be delivered in businesses
Appoint a mental health first aider in the workplace
Output for next year's conference for there to be a measure on how many people undertake their mental first aid training
Making changes – Funding Research – with Emma Craig West
Look within the Business to see if there are any areas where R & D has been undertaken
Log and R & D expenditure moving forward
Contact Emma to see if this could be of interest- they do not charge unless you get some tax credit refunded.
Change Management – with Jo Bowditch
Believe in yourself
The power of Reflection
Choose your attitude