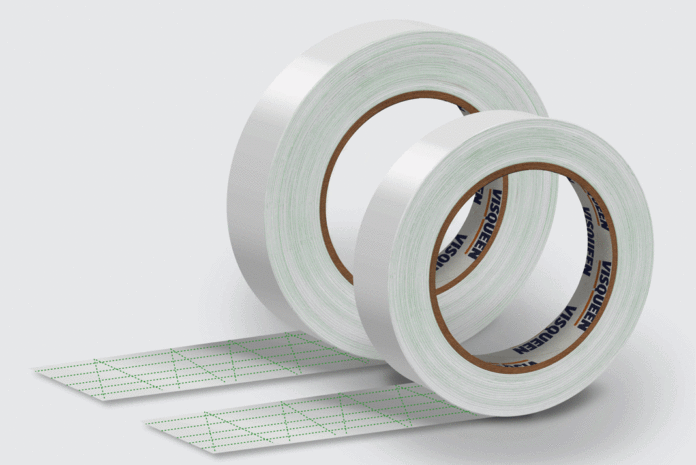 Visqueen has launched a new range of vapour tapes to ensure complete airtightness for building projects when used as an integral part of Visqueen's Vapour Check system.
With a working temperature range from -40°C to 40°C, the Visqueen Vapour Tapes are designed for all weather conditions and are said to actively displace moisture, creating an excellent bond to surfaces. Utilising advanced adhesive technology that is 20 times more aggressive than standard adhesive systems at low temperatures, the Vapour Tapes mount Visqueen's vapour membranes to the building substructures, providing grip to both wood and metal surfaces whilst ensuring airtight jointing and detailing between membranes.
Vapour Tapes form part of Visqueen's complete vapour barrier system which prevents warm, moist air from permeating into a building's timber structures and insulation, and improves general airtightness to ensure compliance to Part L of Building Regulations and complies with EN13984:2012. This protects insulation and structural elements from condensation damage and prevents the build-up of damp and mould which can reportedly have negative effects on human health, causing asthma, rhinitis, itchy eyes, respiratory symptoms, respiratory infection and eczema.
The tapes are available in two forms. The Visqueen Double Sided Vapour Tape is 20mm x 50m and provides 250 metres of linear coverage, enough for at least one room, and is less than half the price of standard blue butyl tape per linear metre. The Visqueen Single Sided Vapour Tape is a flexible blue PE-Scrim tape and is for sealing overlaps, detailing and pipe penetration.
Phil Bull, sales director at Visqueen, commented: "The launch of our Vapour Tapes shows Visqueen's commitment to providing a complete solution for vapour control within building projects.
"By using Visqueen Vapour Tapes together with our Vapour Barrier Membranes, designers, specifiers and contractors can be assured that they are providing complete vapour and airtightness to their building project, in line with the requirements of the latest building regulations."