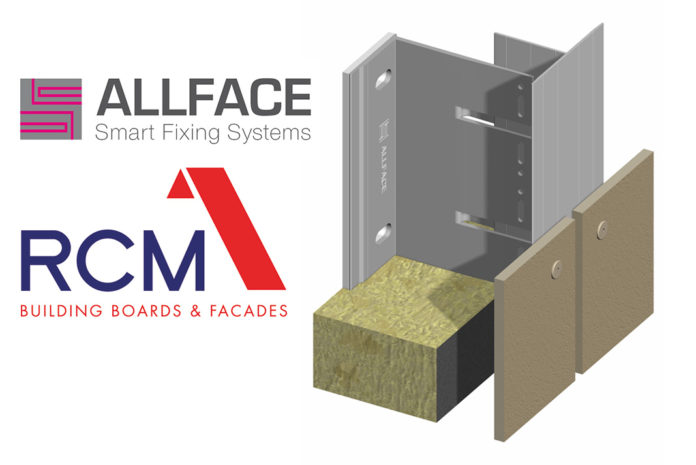 RCM, the through wall supplier continues its growth by forming a strategic partnership with Allface Smart Fixing Systems.
As the newly appointed sole Allface Smart Fixing Systems partner for UK distribution, RCM have secured further success in delivering complete through wall solutions to the UK industry. This appointment allows RCM to offer indicative and fully designed façade framing solutions to its customer through the Allface partnership.
As part of the overall solution, RCM are also able to provide an extensive optimisation service forming part of the complete façade package.
The Allface Smart Fixing System is manufactured from structural grade extruded aluminium. It offers a comprehensive selection of solutions for all types of rainscreen cladding projects. The system is compatible with all façade types, including ACM, ceramics, fibre cement, laminates, stone, glass, terracotta, etc and is suitable for fixing to masonary, timber and steel primary structures.
An already successful business, RCM are continually investing within its product offering and fabrication services, keeping the company at the forefront of the industry requirements and keeping systems competitive.
Stock of the Allface Framing System will be available from RCM's distribution centres for nationwide distribution.
"We are delighted that we have found such a skilled, experienced sales partner as RCM. RCM's powerful presence represents a major opportunity for us," said Johannes Mitterbacher, managing director of Allface GmbH. "We expect this cooperation to improve our market penetration in this economically important region."
Ian Quinton, managing director of RCM, said: "RCM are very pleased to have been able to secure a strategic partnership with Allface Smart Fixing Systems. The systems that they offer will further enhance our product offering within the UK.
"One of the biggest challenges over time is to stay creative, innovative and launching systems that meet the stringent requirements of the ever-changing UK construction industry.
"Through our growth and continued investment, I see RCM further developing into a market leader in the supplying and fabrication of trusted products and through wall systems."
RCM are exhibiting at UK Construction Week, 8-10 October, NEC Birmingham – stand B485. Allface Smart Fixing Systems will form part of the display.