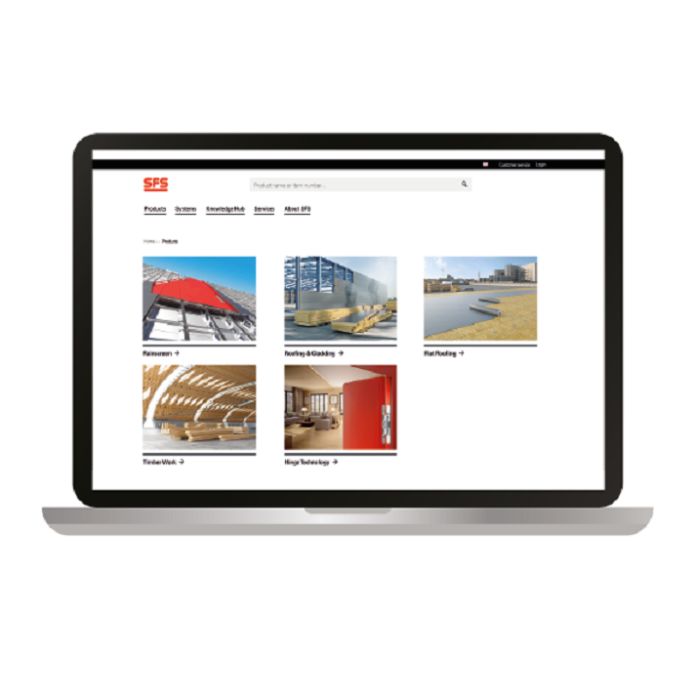 SFS is marking a new era for digital construction with the launch of its new eCommerce-ready website.
The website is a key development in SFS' digital transformation strategy. As well as being able to purchase a large array of fasteners, fixings and building envelope products, customers can benefit from accessing live data on orders and products, see their order status, and create repeat orders.
Alongside the online ordering system, the website is a central resource for products, services, technical and product data, and provides useful industry commentary and information.
This includes SFS' existing digital tools in its SFS ConnectSuite, such as the rainscreen subframe system Project Builder, as well as SFS Talks on topics ranging from specification, installation and digitalisation.
David Wigglesworth, managing director at SFS UK, said: "We know that digital technologies are the future of construction. At SFS, we are here to help drive that change to secure the future of our industry.
"Our new website is just the starting point in our digitalisation strategy. The platform significantly streamlines how customers can interact with us, while giving them full transparency to data about their orders, as well as a wealth of information to make key decisions."
To help users save time on mass orders, the order templates feature allows users to easily create an unlimited basket of products and save this basket as a template on the system, ready to amend or repeat saving time searching the vast array of products.
Specifiers and architects will also be able to access enhanced BIM models from SFS, to help with digital construction and digital twin technology. Along with this, Project Builder from SFS is integrated with the website, allowing users to get a rainscreen subframe wind load calculations and thermal values to help meet their requirements quickly and easily.
David added: "We are proud of our new website and have an exciting programme of further developments through the course of the next year to help us achieve our digitalisation strategy.
"We will be adding more and more tools and functionality in future to the site, including how-to videos, our rail cutting service for rainscreen subframe systems, and looking at how digital technology can be further leveraged to increase our customer experience."