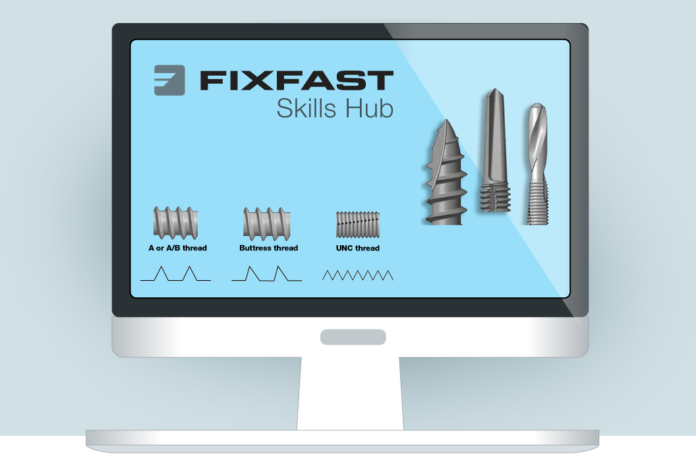 Fixfast has launched a new online training portal to address a lack of skills and knowledge around fastener installation – a problem that is costing UK contractors an estimated £9.31 million in wasted building envelope fasteners alone.
The Skills Hub is a free online resource designed to help contractors and installers solve common issues identified by Fixfast's customers and Original Equipment Manufacturers (OEMs) through its help desk.
The training portal covers a wide range of topics including tooling and installation, technical problems such as corrosion, issues affecting the choice and use of building envelope fasteners, fixing methods for different applications and more.
The launch of the Skills Hub comes against a background of a tightening of regulations and increased scrutiny on standards, explained Ken Lynes, managing director of Fixfast. He said: "Building envelope fasteners may be a small component when compared to the whole build but they are key to its structural integrity, so if they fail due to poor installation, so does the entire system.
"A lack of skills amongst installers is leading to building envelope fastener-related installation failure. Feedback from Fixfast customers suggests this results in an average of 7% of building envelope fasteners being wasted per project. When this is applied to the £133 million market value of construction fasteners in the UK, it means a staggering £9.31 million fasteners are scrapped each year."
Ken continued: "As well as directly impacting the bottom line, poor installation can also lead to delays due to the need to source replacements, time for investigation and in some cases, costly remedial work.
"This is just the tip of the iceberg and similar findings have been mirrored across the whole construction industry. The recent British Board of Agrément industry survey, looking at construction product safety standards for high-risk residential buildings, found that manufacturers believe that poor workmanship is one of the biggest risks to the built environment. It is therefore essential that we take action now to help the industry drive up skills and de-risk construction projects."
The Skills Hub includes a range of easy-to-digest content, including answers to common questions and 'at a glance' best practice guides that can be accessed on-site as and when an issue arises. This is complemented by more in-depth technical information. Additional content, which will include 'how to' videos, will be added on a weekly basis.
"We know that installers are time poor, and that agency or freelance workers especially can't afford to take time out from work to attend courses, as they lose a day's wages, so the Skills Hub has been designed with that in mind," added Darren Fleck, technical consultant at Fixfast.
The Skills Hub can be used as a stand-alone resource or can form part of a contractor's existing training programme. It can be accessed on-site (via a mobile or tablet) or from home or the office (via a laptop). It is free to use and is available now at www.fixfast.com/skills-hub.
>> You can read more about Fixfast in the news here.