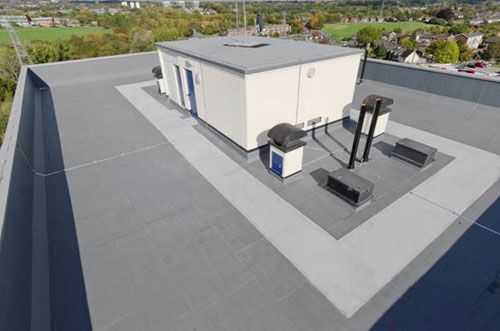 Alumasc's Euroroof Caltech waterproofing system has been installed on the roofs at California House, providing a significant increase to the operational life of this 42-flat retirement / sheltered housing complex in Bartley Green, Birmingham.
Owned by Birmingham City Council, Places Directorate, California House is a 10-storey, high-rise residential block of flats. The existing roof system comprised Mastic asphalt with minimal thermal insulation, which had become heavily compromised. Multiple repairs had been previously undertaken to extend the serviceable life of the original roof.
Alumasc and its West Midlands-based registered contractor Brindley Asphalt were chosen to install a complete new roof waterproofing system on the 405m2 roof area, which would provide an effective long-term solution.
What remained of the existing, now degraded, waterproofing system was completely removed and replaced by a new, fully integrated Alumasc solution. The first stage was suitable preparation, onto which the contractor laid a Euroroof vapour barrier offering immediate protection for the fully occupied residence. A fully engineered Derbifoam thermal insulation scheme was then laid, which provided the target U-Value of 0.18 W/m²Kd and removes standing water to the existing RWO locations. The internal rainwater outlet locations were fully refurbished with the Euroroof Refurb Pro outlets. Finally, Brindley Asphalt installed the Euroroof Caltech waterproofing system in a totally Flame Free and "cold applied" manner, comprising a Caltech base coat with reinforcement layer and two applications of the Caltech Top Coat, to achieve the 25-year System warranty.
The perimeter parapet details were fully encapsulated with the Euroroof Caltech waterproofing system and finished with Alumasc Skyline Aluminium PPC capping, in the client-selected RAL colour.
The installation of defined walkways, finished in the Euroroof Caltech Aggregated wear course, completed the total engineered solution to the entire roof covering.
Acivico project manager Glenn Jones, who managed the works on behalf of Birmingham City Council, Places Directorate, commented: "The quality of work on site and the attention to detail was of a very high standard."