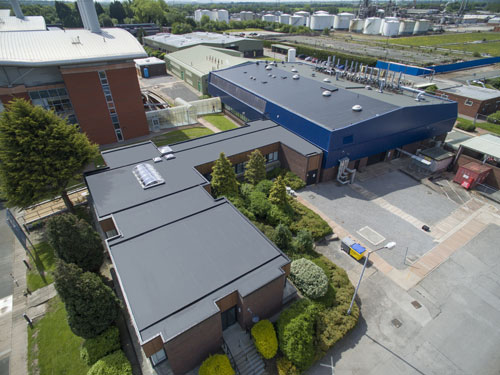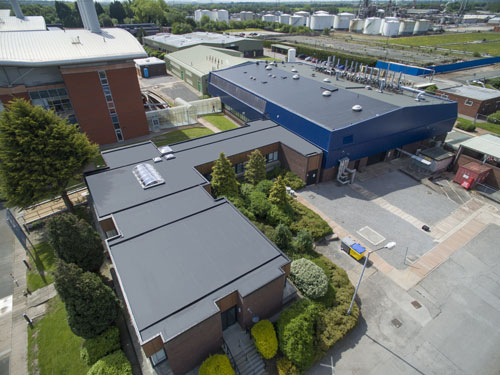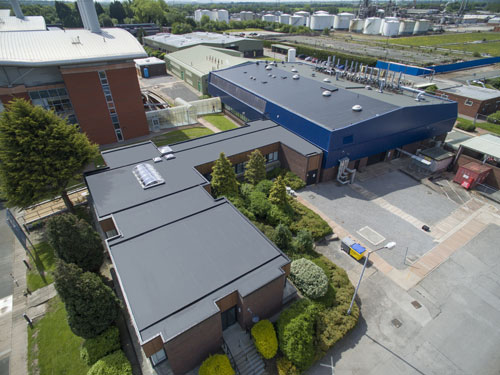 The High Growth Centre, Thornton, co-funded by the University of Chester and the European Regional Development Fund (ERDF) recently upgraded its roofing system after the bituminous roofing membranes put the buildings at risk of water ingress. WOLFIN's GWSK Self-Adhesive Polymeric PVC was chosen to tackle the issue thanks to its unique offering to the market.
The High Growth Centre is situated at the University's Thornton Science Park near Chester and is a hub for entrepreneurs and small to medium sized business owners, combining academic expertise from the University of Chester with business experience. The centre was designed specifically for companies operating in Advanced Manufacturing, Automotive, Energy and Environmental sectors, and offers business advice and support to members. The old bituminous roofing membrane had reached the end of its life and was at risk of failure. It was important for Ashton Building Services' refurbishment work to be carried out with as little disruption to the occupants as possible.
The architect, Tony Crawford of Mersey Design Group, therefore chose WOLFIN's GWSK single ply membrane for its vapour permeability, because it actively dries out the old failed roof layers eliminating the need for the old roofing system to be stripped and a new roof to be rebuilt from scratch. The perfect solution for a public building such as the High Growth Centre was to overlay the old roof with the WOLFIN GWSK Self-Adhesive membrane as it compressed the programme duration, eliminated risk, reduced disruption to the buildings' occupants and gave them a new lease of life. Furthermore, as it has passed fire tests in compliance with BS 476: Part 3: 2004, WOLFIN's GWSK membrane offers the centre a very high fire protection.
Tony Crawford of Mersey Design Group commented: "WOLFIN offers a unique solution to the market, and for this project it provided a much shorter programme of work to allow the earliest opening of this new centre. An added bonus is that GWSK is a more sustainable option than replacing the entire system as it dramatically reduces the amount of material being sent to landfill. In addition, as the old insulation dries out it regains its thermal performance."